Weekly
BTC still appears to be long term bullish, chart shows price fell down below 21 weekly EMA, but got save and close above it.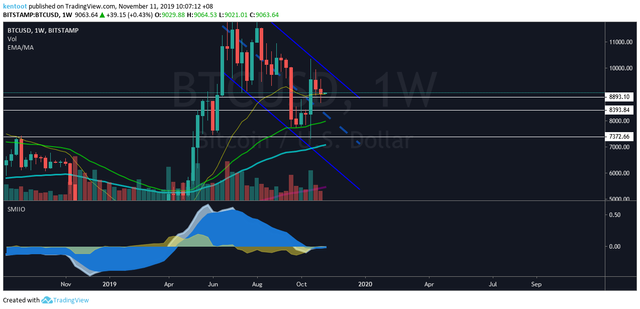 Daily
On the other, BTCUSD on the daily appears to be neutral, price have just climb back above the 21 Daily but has not reached 100 EMA, Bitcoin appears to be weak on the daily, it was just barely saved. The volume shows it was not hard to push the price back to $9k, this could suggested that traders are waiting in the sidelines, waiting for a good signal.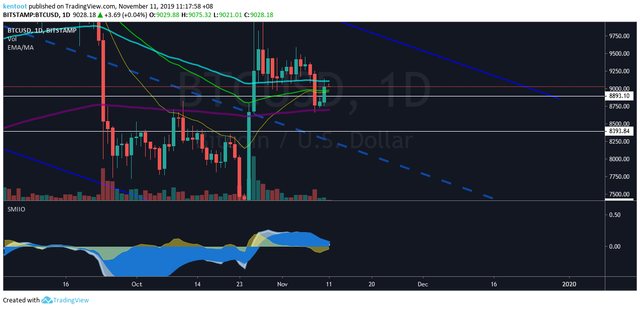 4 hour
BTCUSD is also weak in the 4hour, after trading below 200EMA(Purple), a small pump pushed the price above the 200, but not enough for the 55-EMA(Green), SMI oscillator shows there still could be momentum to the upside, but would likely to be a weak one.
Speculation
Though I am long term bullish, I am speculating 2 possible moves.
1.) is we test the $9.8k area
2.) shown in the chart below, we are in a downtrend channel, the price appears to be trading in a repeating pattern, as shown in the chart, the price trades above the blue resistance line, then followed by a dump, then the price gets save and move back up, then a small dump that appears to be a bear trap but is a fore warning of the next coming major dump. I am not hoping this could be true, but also keep in mind the market is not just about bulls and bears but also algorithms designed to take your money. This pattern could be the algorithm repeating again.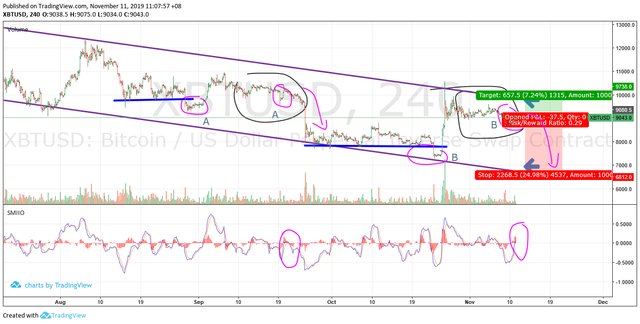 Disclaimer: This is just a personal blog, I am not a financial advisor, this is not a financial advice.