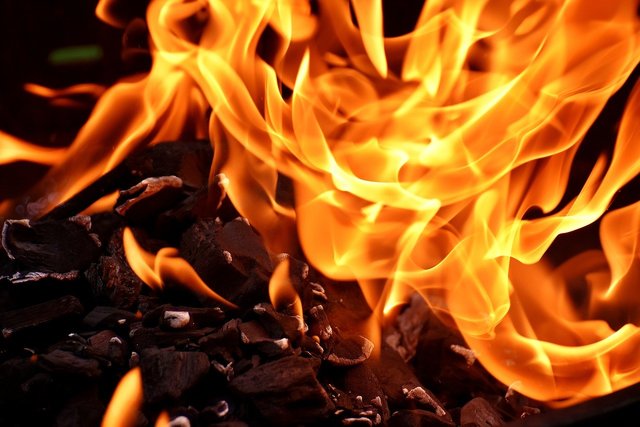 OMG, how does that sound if you say it out loud?
Actually, if we replace "STEEM" with "MF" (well, you know the words), you get a verse from the lyrics of a hit in the 80s: The Roof Is on Fire by Rock Master Scott & the Dynamic Three.
It goes like this:
The roof, the roof, the roof is on fire!
We don't need no water—Let the motherfucker burn!
Burn, motherfucker, burn!
That's a very vivid image, and if Steem is hot or on fire, it's certainly for other reasons, not because "the roof is on fire".
But I can't shake this image. That once you burn something, you get ashes, scorched earth. Is that the image we want to associate to Steem?
Now, apart from the image, which I believe is a powerful one, -- who else burns their coins in the crypto sphere? -- I still don't find the logic behind it.
The market will always find its balance, despite artificial interventions.
And if we burn STEEM we end up with a final lower circulation supply and the liquidity will not be attractive at all to big investors (I mean those willing to commit 10 million+ USD in a small investment for them).
While I have always been against these artificial interventions which are hurting Steem longterm, my public positions started relatively balanced but leaning towards "no", then trying to hint or say it outright when I found the chance. Why didn't I speak my mind 100% from the first time? Well, the ideas were/are backed by too many people who normally know what they talk about, I thought maybe there was something I was missing. I reached the conclusion there isn't.
I think this was the first time I talked about it, the one where I took a very balanced position.
About burning STEEM and fixing SBD peg I have the same opinion: they are just band aids. We're playing with inflation hoping that markets will give us some slack. The only real solution regarding the price will come from the markets, when there will be a high enough demand, maybe following some of our much expected releases from the beginning of this year.

So I am not in favor nor against them. Well, slightly against, but only if we come up with a real solution instead.
About the above, not only did the markets gave us some slack, they gave us a 50% boost intra-day a few days ago, and we have over 25% gained in a two weeks period. That doesn't come from burning our coins! We can be sure of that.
A few days ago, I tried to hint in a comment to @theycallmedan that burning works against having more liquidity. He explained it well, but you can't incentivize demand by burning your coins! You simply can't. Well, you can, but that's seems like a last resort, desperate measure. I wish I would have replied like that then.
In a conversation with @tarazkp about the power down period reduction feedback from two days ago, I mentioned this:
I'm a believer in markets, not in burns or other artificial methods of keeping things "under control".
What would happen if STEEM wasn't burned anymore?
I would include in the same category as burning - "potatoing", but SBD was chosen as the (only) option to pay of SPS. That creates an inflation of SBD, which will NEVER be pegged unless converted. I still don't like the existing solution.
Question: Does @steemalliance (i.e. Steem Foundation) take donations at their account? They can be another alternative destination of beneficiary rewards for users willing to help Steem grow.
I hope this isn't a too "ranty" post for the weekend.
---
Image Source: Pixabay.com