… Again escapes by leaps and bounds to other frontends.
Two days ago, the @steemspeak team launched another enhancement to its SteemSpeak platform.
https://www.palnet.io/steem/@steempeak/intro-to-crossposting
In his article introduces the function CROSSPOSTING.
With this feature, you can send a link to the original article to your chosen community (hive). This is useful if the article will benefit your community (hive).
Use the link provided to read the article from @steempeak.
Here are some pictures of how to invoke and use CROSSPOSTING:
In steempeak.com or beta.steempeak.com, find the article you want to "transfer" to your community (hive)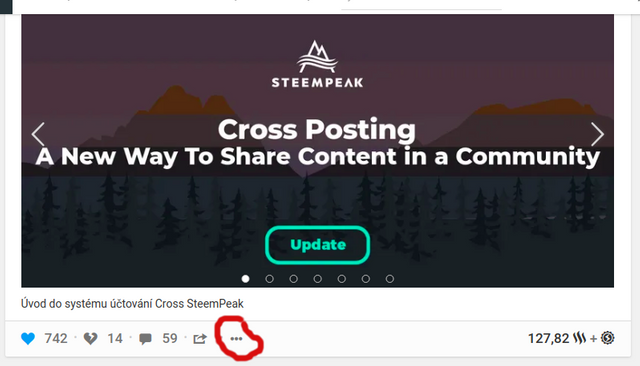 Select "..." on the voting bar
Select Crossposting from the menu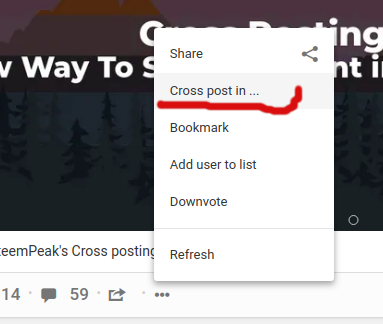 In the next window, select the desired community (hive) from the drop-down menu
(only the subscribed communities are shown!)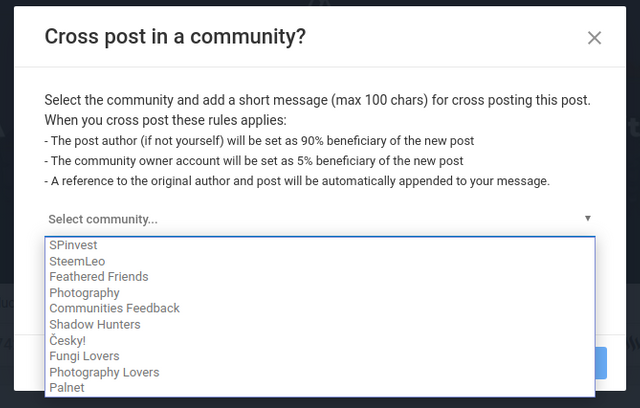 Type a short accompanying message (max 100 characters) and confirm with "Confirm"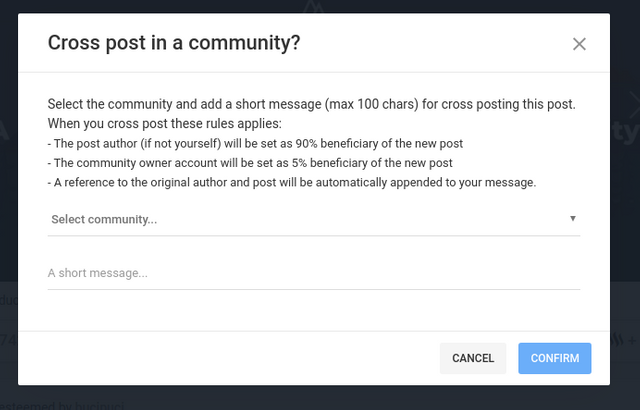 Done. When you join the community (hive), you will see a "forwarded" article.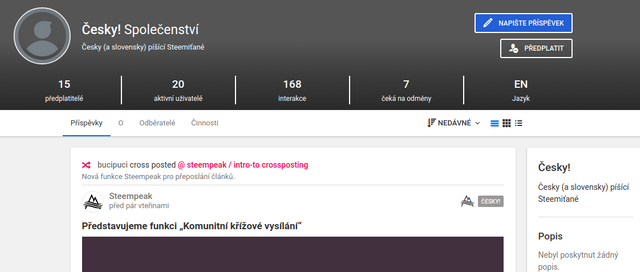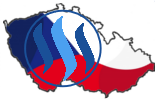 … opět uniká mílovými kroky ostatním frontendů.
Před dvěma dny uvedl tým @steemspeak do života další vylepšení své platformy SteemSpeak.
https://www.palnet.io/steem/@steempeak/intro-to-crossposting
Ve svém článku představuje funkci CROSSPOSTING.
S touto funkcí je možno odeslat odkaz na původní článek do vámi vybrané komunity (hive). Toto je vhodné v případě, že článek bude pro vaši komunitu (hive) přínosem.
Použijte uvedený odkaz a přečtěte si článek od @steempeak.
Ukáži zde několik obrázků, jak funkci CROSSPOSTING vyvolat a použít (všechny obrázky v anglickém textu):
V rozhraní steempeak.com nebo beta.steempeak.com vyhledejte článek, který chcete "přenést" do vaší komunity (hive)
Na liště pro hlasování vyberte " … "
V menu vyberte možnost Crossposting
V následujícím okně vyberte z rozbalovacího menu požadovanou komunitu (hive)
(zobrazují se pouze komunity, které máte přihlášeny k odběru!!)
Vepište krátkou průvodní zprávu (max. 100 znaků) a potvrďte "Confirm"
Hotovo. Po přihlášení do komunity (hive) uvidíte "přeposlaný" článek.