Writing a book is a huge accomplishment, and Anja Schuetz (on Steem also known as @connecteconomy) did just that: she launched a Bitcoin Security Guide How To Stay Safe In The Crypto Space just a few days ago!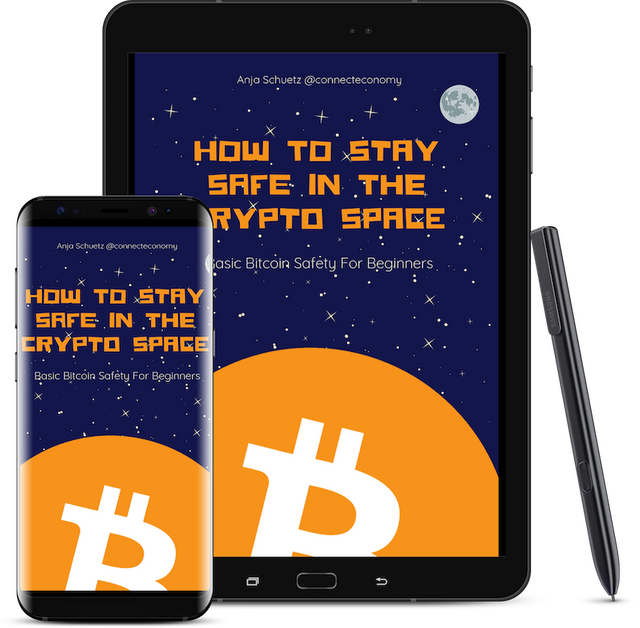 Image from @connecteconomy's announcement blog!
---
Beginners in the crypto space are vulnerable
... but they shouldn't have to be
The book was written for several reasons, which are probably very familiar to those that are setting their first (or second and third) steps in the crypto space. Because of decentralization the information people need to know in order to keep their coins safe isn't easily found in one place. Cryptocurrencies are not 'normal' money, and require a few extra steps to keep them secure - but do people even know this when they just bought their first 0,1 BTC? And if yes, where and how will they find that information?
Anja / @connecteconomy works with crypto newbies on a daily basis, and she has seen many times how they get hacked, or lose access to their wallet through lack of knowledge about basic security information.
Often this could've been prevented with very simple means: just a little bit of education and this person could still have their precious crypto currencies in their wallet - and have access to it through safe use of their keys.
Not your keys, not your Bitcoin!
Decentralization is a beautiful thing, but having access to the most important information in a central place is the shortcut to get beginners at that level where they can safely experiment more with cryptocurrencies. That's where How To Stay Safe In The Crypto Space comes into play.
Contents
The book exists of 25 pages full of everything you'd want a beginner to know:
email security
password security
exchanges and wallets (Bitcoins are like Cornflakes :D)
wallet security
ownership & keys
exchange security
phishing mails
other ways to protect your privacy
Just an example from the book:
Just for fun, enter your email address on this website and see if you get a red or green result:​ ​https://haveibeenpwned.com
Green is »good news«. If you get a red »Oh No – pwned« result, scroll down to see which services you subscribed to with this email that had data breaches.

The chapter (email security) then goes on to explain how to handle your email security better, including concrete examples of services to use - so you don't have to go through a lot of work to upgrade your email security!
Another chapter, on software and hardware wallets, goes into detail on where to find both, and how to decide which one to use. It provides links to several services and products through which you can safely store your coins, but also explains how to find the right manufacturer if you're opting for a hardware wallet. And when she mentions 'DYOR', it explains, 100% beginner-proof, that DYOR is crypto slang for Do Your Own Research.
She really thought of everything!
Who should read this?
Now, the word 'beginner' got dropped a few times so far, but being a 'pro' in the crypto space is probably only true for a select few. I've been active in the crypto space for a little over 2 years now, and this guide is still very useful for me! I both found some great tips I hadn't heard of before, but also realised I was able to use this guide as a checklist to see if I was getting 'the basics' right.
It's the guide to own for yourself if you're a beginner/intermediate crypto user, but also to recommend to all your friends and family who are considering or seriously taking their first steps into the crypto space.
I don't want people to be scared of crypto
I want them to feel confident in the knowledge that they have taken all the necessary precautions, and that their money and their personal data are safe.
I want their money to grow and their worries to be gone.
This book is the manual for that.
Want to buy the guide? It's on discount until X-mas!
The regular price of How To Stay Safe In The Crypto Space is $25 (+ a bit of tax for Europeans). But, because this is basically a digital launch party there's a $10 discount until Christmas!
You can use the special Steem Discount Code while checking out: steemies. The regular price is $25, this way you'll get it for $15.
This discount code will expire on December 24, 2019 end of day in UTC+1 time zone.
This ebook will evolve and constantly get updated. You will receive all future updates for free with your one-time purchase.
Yes, you read that right, this guide won't be 'outdated' in the foreseeable future! Since the guide will evolve with the quickly moving crypto space, having bought this guide will be your 'go to' and up-to-date guide for everything you need to know about the crypto space, and will be useful if you're active in the space daily or just want to 'check in' twice a year and want to quickly look up 'how again was this and this done again?'
Pretty great value for money if you'd ask me.
The guide, once bought, comes with a very generous referral program as well.
Intrigued? Then check out the page where the guide is sold for more info, including a very clear FAQ that explains Anja's own words who should buy the guide and what it does and does NOT cover: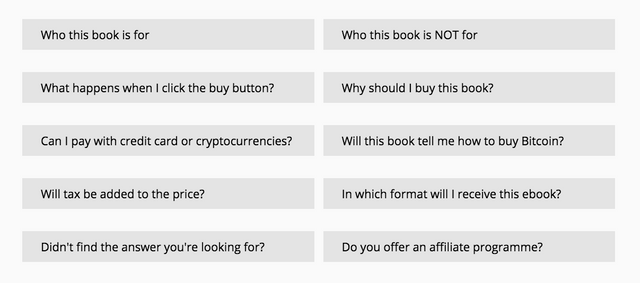 ---
All in all I'm excited this guide has been launched - before the next bull run! If we want people to feel save in the crypto space we should make it easier for them to navigate this new world - and this book is doing exactly that!
Check it out: http://anjaschuetz.net/crypto-safety-200/
And leave your congratulations on @connecteconomy's blog!