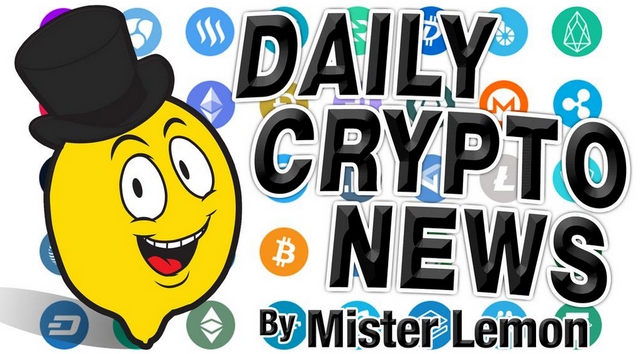 Bitcoin's Lighting 'Torch' Reignites, Blazes Through 38 Countries in 3 Days ;
Retail Accumulation? Number of Bitcoin Addresses With One or More Coins Sees Solid Rise ;
Research: Ether Was the Cryptocurrency Most Correlated to Other Coins in 2019 ;
Ethereum Officially Starts the One Million Developer Challenge ;
Davos Experts Say Regulation Is the Key to Unlocking Tokenization ;
🗞 Daily Crypto News, January, 22nd 💰
STEEM Trading Update
Welcome to the Daily Crypto News: A complete Press Review, Coin Calendar and Trading Analysis. Enjoy!
The torch is a digital game first ignited in January 2019 by pseudonymous bitcoin enthusiast Hodlonaut, known for his Twitter avatar of a cat in a spacesuit. Each "torchbearer" sends a tiny amount of bitcoin to the next. A key rule is to add a little bit more money to the payment each time it moves to someone new.
The goal is to highlight the speed and global nature of the lightning network, a payment technology that could solve or at least greatly ease some of bitcoin's most critical problems. Started on a whim for fun, the torch became a global event, even carried by Twitter CEO Jack Dorsey, showing how frictionless and indifferent to borders the form of payment is compared to legacy methods like Visa and Paypal.
On Sunday, Hodlonaut lit the torch for the second time, in what he described as a "spur-of-the-moment decision." Since then, many enthusiasts have been posting lightning "invoices" on Twitter to which the torchbearer can send the next lightning payment.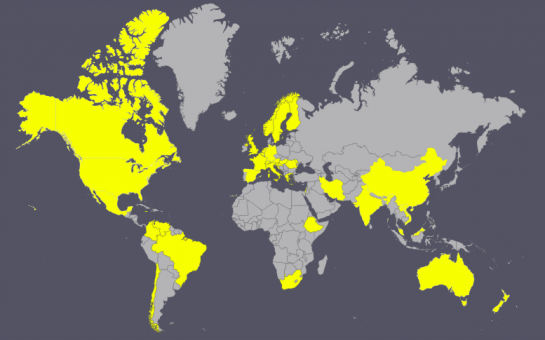 A key on-chain metric has witnessed growth over the past 12 months, possibly indicating steady accumulation of bitcoins by retail traders.
As of Jan. 14, there were 784,000 addresses holding one or more bitcoins, up nearly 11 percent from 707,000 seen a year ago, according to blockchain intelligence firm Glassnode. The number has more than doubled since early 2015.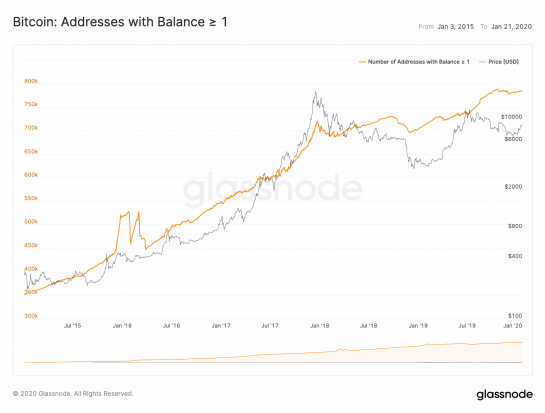 "The steady rise is the result of accumulation by retail buyers," according to Connor Abendschein, crypto research analyst at Digital Assets Data in Denver.
Address growth can also come from exchanges and big players, known as "whales," though such addresses usually hold large balances and often rank at the top of bitcoin's "rich list," a table of the addresses holding the most bitcoins.
Recent research shows that Ether (ETH) was the cryptocurrency most correlated to the rest of the crypto market in 2019.
In a report published on Jan. 22, the research arm of major cryptocurrency exchange Binance suggests that throughout 2019, ETH had an average correlation coefficient of 0.69. The paper, which compared correlation data of 20 top cryptocurrencies, reads:
"Ether (ETH) is the highest correlated asset. With an average correlation coefficient of 0.69 throughout 2019, it is consistently among the most correlated assets. The coefficient started at 0.69 in Q1 and rose to 0.72 in Q4 (Q2: 0.65; Q3: 0.74)."
After three months since the initial announcement, the challenge to get one million developer to build on Ethereum (ETH) is now officially on.
Last October, as reported, at the Devcon 5 conference held by the Ethereum Foundation, Joseph Lubin, co-founder of Ethereum and founder of blockchain company ConsenSys, announced the mission to get 1 million developers on this platform by the Devcon 6 this year.
It's been quiet since the announcement, and the amount of information on the website as to how Ethereum plans to accomplish this feat has been changing. Finally, yesterday ConsenSys Open Source Chief, Jim Jagielski, tweeted that the 1 million effort is officially launched.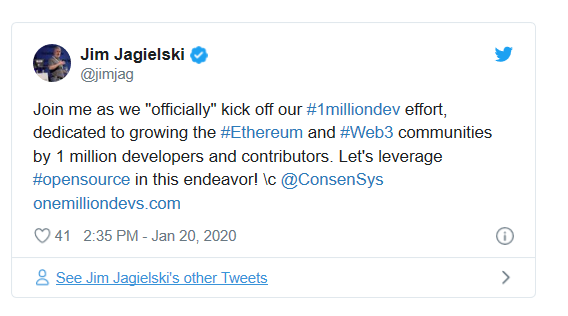 Blockchain industry participants in Davos believe that digital tokens could transform the world of business and art – providing the capacity to "break down an Andy Warhol painting into a million different tokens."
The industry professionals were speaking at a session entitled "From Token Assets to a Token Economy," held at the annual World Economic Forum in Davos on Tuesday.
Panelists agreed that tokenization has the potential to make illiquid assets more accessible on a global scale. They also claimed such moves could democratize access to capital for business owners worldwide, but said that only regulation could mitigate the emergence of new token-associated financial risks.
Jeremy Allaire, the co-founder and CEO of America's Circle, the operator of the USD Coin stablecoin, said that both dollars and gold have already been tokenized, and will be followed by "more complex types of assets" – namely valuable works of art, the earnings of spots stars and tokenized carbon credits.
🗞 Daily Crypto News, January, 23rd💰
Live keynote with Chiliz Founder & CEO Alexandre Dreyfus to discuss - vision for 2020, new features, FTOs and partnerships.
Aeternity (AE), Cardano (ADA), General Event (CRYPTO), Lykke (LKK), Maker (MKR), Monero (XMR), Tezos (XTZ)
CV Summit Davos 2020 from 9 AM - 6:10 PM.
"AMA No. 34 Questions Thread is Open! Submit your questions before the AMA on Jan 22nd @ 5PM – 5:45PM UTC."
"We'll be holding it [Enigma Open Community Call] on Wednesday, January 22nd, 10AM ET / 3PM UTC."
"A New Approach to Managing Chronic Conditions" webinar from 12 - 1 PM (EST).
STEEM Trading Update by my friend @cryptopassion
Here is the chart of my last analysis :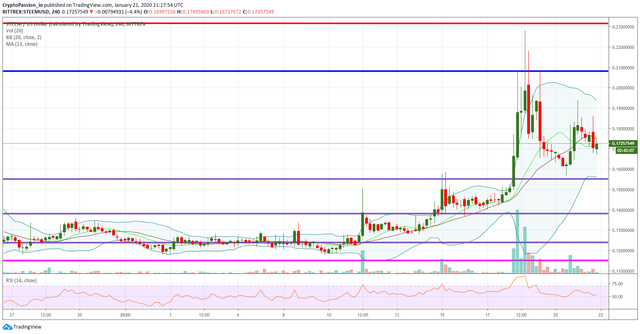 Here is the current chart :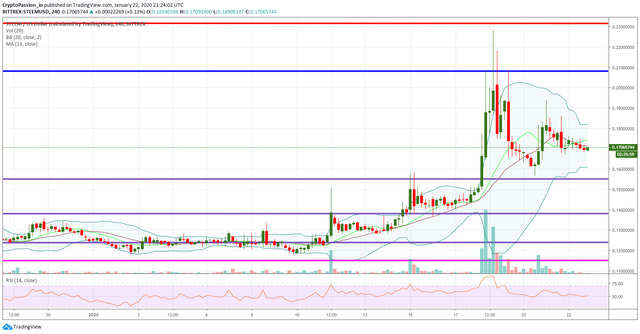 You can see on the chart that the volume and the volatility is clearly decreasing and it is most of the time the sign that a bigger move is in preparation and that a break out is not so far. Now, the direction is always the problem as no one can be sure about that. Let's wait to see what the BTC will do and let's hope it will guide us on a UP break out also on the STEEM.
Last Updates

You don't want to miss a Crypto news?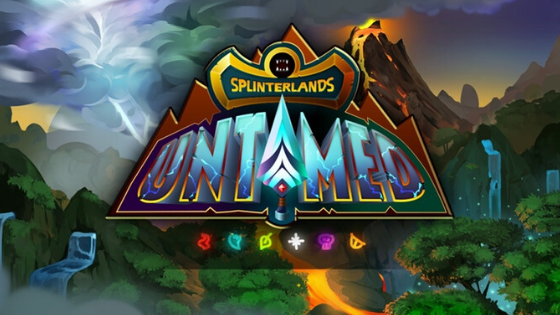 ---
Posted via Steemleo | A Decentralized Community for Investors