Laut Statistik von @stateofthedapps hat Steem mehr täglich aktive Benutzer als EOS und mehr DApp-Transaktionen als Ethereum, obwohl Ethereum rein zahlenmäßig mehr DApps hostet, wobei der Großteil bei Ethereum nicht wirklich genutzt wird, was bei den hohen Transaktionskosten nicht verwundert.
Grund für das gute Abschneiden von Steem ist sicherlich das bliebte Kartensammelspiel @splinterlands, das sich überhaupt zum derzeit erfolgreichsten DApp-Game entwickelt hat. Weiters tragen zur Nutzung von Steem die zahlreichen Social-Apps wie @steemit und @steempeak bei und Steem hostet auch noch zwei Videoplattformen: @dtube und @threespeak.
Bin gespannt wie sich der Launch des sozialen Netzwerks Voice für EOS auswirken wird. Generell sind die Nutzerzahlen von DApps aber noch sehr, sehr gering (wie das Internet in den 90er-Jahren), aber DApps haben enormes Potential und werden oft als das Web 3 gesehen.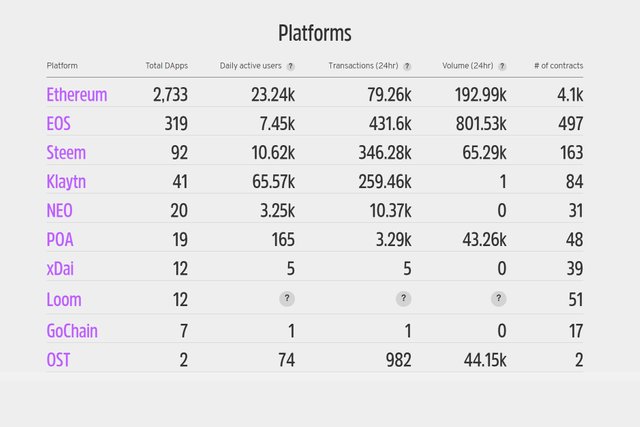 https://www.stateofthedapps.com/stats (2020-01-07)
English
According to the sats from @stateofthedapps, Steem has more daily active users than EOS and more DApp transactions than Ethereum. Although Ethereum hosts more DApps in terms of sheer numbers, the majority of Ethereum-based DApps is not really used, which is not surprising given the high transaction costs and gas prices there.
The reason for the good performance of Steem is surely the popular card collecting game @splinterlands, which has become the most successful DApp game at the moment. Furthermore the numerous social apps like @steemit and @steempeak contribute to the use of Steem and Steem also hosts two video platforms: @dtube and @threespeak.
I am curious to see what effect the launch of the social network Voice will have on EOS. Generally speaking, DApps user numbers are still very, very low (like the Internet in the 90s), but DApps have enormous potential and are often seen as the next-generation Web 3.
Live your Secrets and Steem Prosper 🔥
xx Viki @vikisecrets