Today's post is going to be a lot shorter. Because I am switching up the format how I make my posts. I realize I type way to much and mainly I only really have detail information talking about @splinterlands even though I play @drugwars and @roadofrich as well.
So here goes, in road of rich I am still getting resources gearing up my people. In drugwars, I am upgrading my main base a lot and I have started attacking other players again because only job 10 is profitable enough for me to do it. The rest is pointless as I lose to much weapons and alcohol. I started dumping DWD again to buy up DEC to save for better cards.
Now in Splinterlands, I been averaging enough DEC to buy a cheap gold foil card almost daily but I have started saving for one big card to upgrade as its important for my wins. I reached gold 2 and before the season is over, I plan to push for gold 1 and maybe try to push for diamond 3 depending on how the games are going.
Reward Cards This Week
| Day Earned | Cards |
| --- | --- |
| Sunday | Creeping Ooze, Phantom Soldier, Silvershield Assassin, Silvershield Archers, Undead Minotaur (2) |
| Monday | Exploding Dwarf, Undead Minotaur, Silvershield Archers, Creeping Ooze, Goblin Mech (2) |
| Tuesday | Screeching Vulture, Wood Nymph, Baby Unicorn, Creeping Ooze, Silvershield Archers (2) |
| Wednesday | Gelatinous Cuve, Creeping Ooze, Beetle Queen, Silvershield Archers, Wood Nymph (2) |
| Thursday | Exploding Dwarf, Wood Nymph (2), Silvershield Archers, Boogeyman, Battle Orca |
| Friday | Furious Chicken, Creeping Ooze, Sea Monster, Ettin Spearman, Serpentine Mystic, Screeching Vulture |
| Saturday | Furious Chicken, Creeping Ooze, Undead Minotaur, Naga Windmaster, Ettin Spearman, Gelatinous Cube, Gremlin Blaster |
Any cards I received that was normal and I already own the gold foil version. I sold or burned to buy more gold foil cards. I will keep doing this until my whole collection is gold foil. That way I will always know what to keep and what to sell without thinking about it.
Sadly, what I have noticed is the value of most of my cards have gone way down. I thought maybe gold foils would hold their value. I'm not going to sell any of them as I believe the prices will go up again as time pass. I just need to keep that long term view on the game and not a short term money gain.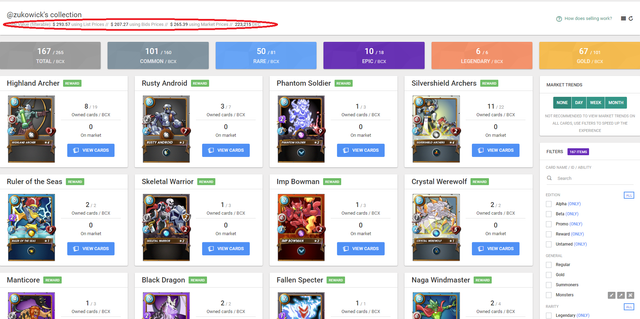 If you haven't played any of these games. Here are the links to play them.
Splinterlands
Drugwars
RoadofRich
Posted via neoxian.city | The City of Neoxian