As many of you involved in @spinvest would have seen, @silverstackeruk is stepping back for a week and having a break, recharging the batteries and re-thinking the future of SPI. You can see his post in the Spinvest community.
As a quick aside, I'd encourage everyone involved with, or interested in Spinvest to join our community at the link above. I can't wait till communities can appear on the tribe front ends, but Steempeak is excellent. Also, if you write, or see articles about Spinvest, feel free to cross post them into our community.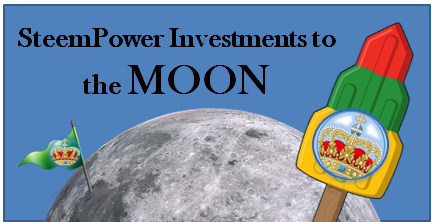 All of the following are my personal thoughts, not endorsed by, or official SPI policy.
---
So here are my thoughts and suggestions on where Spinvest is headed.
Token sales:
I see it as highly unlikely that we will sell 1 million tokens. Many investors have probably reached their goal investment, and new investors are hard to find. I personally feel that around 200K SPI tokens total should be set as the target. This still gives us plenty to sell over the next few months, and then we can move from sales phase to start the growth and dividend phase.
200K is basically double the current amount. With our current asset base, we are making 400 - 500 STEEM per week income. So at 200k we should be targeting 1000 STEEM income. I'd like to see some of this paid as dividends, to SPI holders, weekly or monthly. Perhaps a 40% dividend, which would be 400 STEEM per week or 1600 per month. This would work out to be a 0.008 Steem payment per unit, per month. Or 0.096 per annum (a 9.6% dividend based on 1 SPI = 1 STEEM)
I feel 10% should be allocated to the admins/organisers that have put in their time and effort to build this up and run income producing and administrative roles for the club. Obviously I am biased in saying that, being the manager of the @spinvest-leo account. More on this below.
The other 50% of income would be retained in the fund for investments - both on chain and off. More on that in a minute. This retained earnings will steadily build the asset base, and token value in an ongoing and compounding manner.
These are just my personal thoughts I am sharing, not any official policy.
As you all may know, I have been building up the LEO account through a delegation and reward model with curation of tribes being the primary income. Down the track, I personally would like to move away from delegations, and have this account basically running without expense. The assets (tribe tokens currently, maybe SMT's when they arrive) would remain powered up, I wouldn't have to sell any to pay for delegation payouts, and income could be used in a variety of ways.
I realise that winding up the delegation program would disappoint many people, but it is a fair amount of work to maintain, and we may actually be hurting the assets we are trying to build up. Each week now I am selling 600 - 1000 LEO tokens to buy the SPI payouts, and these levels of consistent selling could be hurting the value of the LEO token.
Please don't panic, the delegation program isn't going away any time soon, but I just wanted to float this out there as my personal thoughts for mid - long term planning. I would think I can keep running it the way it is for up to another 6 months, but the weekly admin is becoming a tedious chore. So there are personal reasons why I'd like to wind up the delegation program, and also economic. Selling lots of LEO each week isn't good for the value of our owned LEO tokens.
Remember - my personal thoughts only - not anything SPI official.
Opportunities:
I think the next 6 to 12 months are going to be full of opportunity for Spinvest - more than we will be able to handle. SMT's will happen, and I think they will be a game changer. I can foresee many tribes swapping to SMT's from Steem-Engine tokens, and external exchange listings for the most popular and those with a use-case beyond just rewards for content. This could change the dynamics of SPI, and provide new avenues for growth.
The other big opportunity I think will come is in the form of STO's. Security Token Offers will come to STEEM - in a significant way I feel. Existing DApps, both on STEEM and potentially TRON DApps, and other businesses on the blockchain will launch STO's - this year and particularly next year I think. These will basically offer token buyers part ownership of the business - like shares but on STEEM instead of the Stock-exchange. Spinvest could be in the box seat to invest in some of these, and our asset base could expand to include part ownership of the Steem (or Tron) based businesses we all use regularly.
Club involvement.
I love @silverstackeruk's idea of each verified club member recieving an NFT to hold rewards for club involvement. For many SPI holders, there is no incentive to actively participate. Those of us that do at the moment, are doing so for non-financial reasons. I guarantee that participation will be much higher if there is some tangible rewards attached to it. Whether it is participating in votes, moderating the community, researching a potential new investment, or whatever, If there is a reward or benefit attached, more people will be involved.
---
Anyway, these are just a random collection of my thoughts regarding the future of SPI. I would welcome any and all feedback, and other ideas and suggestions for MR Spinvest - aka @silverstackeruk to consider during his short break.
Cheers,
JK.
Posted via Steemleo