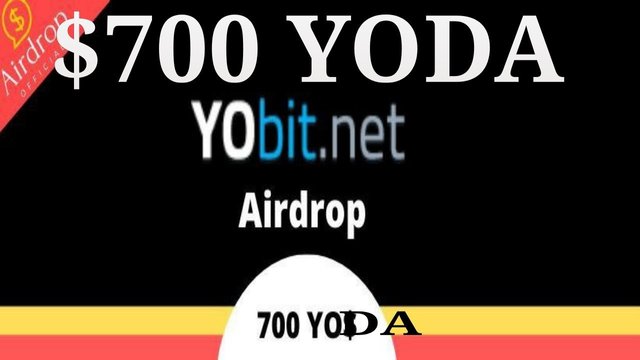 The Yobit Exchange has a mixed reputation but it has many unique opportunities to make great returns. For example the last airdrop more than doubled in price instantly, the current IEO is around 30x in a matter of days and Yo (originally YOBTC ie BTC fork for Yobit) multiplied in value more than 10x in a short time and held its value for months. The exchange also has great invest boxes to earn decent returns, 10%/day for example for X10 which is the current IEO (I have tried and tested these successfully on some IEO's but entry and exit points are key as always).
Yobit have just launched this new airdrop via there new Telegram Fastexrobot. To get 700 Yo Dollars for free please use my referral link (I can give it to you via pm) and follow the process by clicking start then 'get 700 YoDollars'. You will also receive your own link once registered and joining their Telegram Group (link to join will be provided by the Fastexrobot). Also don't forget to click where it says 'I've subscribed' if you already joined their TG (beware of joining the scam groups, so only use the link provided by the bot in the process).
Once you receive the 700 YoDollars (confirm by clicking the balances option) they will remain in your balance and can be traded on the Yobit Exchange after in a month on 28th January (follow the TG channel). Happy trading and seasons greetings! @bue @hr1
Get 700 YoDollars (YODA) for Free:
@fastexrobot
🚀 Yobit AirDrop
🎁 Get 700 YoDollars+400 YoDollars refers
🔹Telegram Bot https://t.me/fastexrobot?start=a68nwpe2f
🔹Register: https://cryptotalk.org/
🔹Click "Get 700 YoDollars"
🔹Join to Yobit Telegram Groups
🔹Go to @fastexrobot and click on "i have subscribed"
🔹Copy code
🔹Do positive comment with your code at link below
https://cryptotalk.org/topic/30585-new-yobit-airdrop-get-700-yodollars-for-free/
🔹Go to @fastexrobot and click button "I have posted code on CryptoTalk"
🎊Trade / deposits / withdrawals for YoDollars (YODA) will be open after 28 Jan
⚡So dont miss it join be hurry
Attention! Yobit never asks you to create yobicodes or any payments. Never send your info to scammers by email, Telegram or Twitter (we don't have any support on Twitter)! Yobit supports never ask your money for solving problems or account activation. We don't have any private or special Invest Boxes. Beware of scams! You don't need to verify you account! Don't send your money to scammers!
Official Yobit Chats in Telegram: @YobiChatEn @YobiChatRu | Support (in test mode): @YbtSP