The few altcoins I'm holding continue to bleed.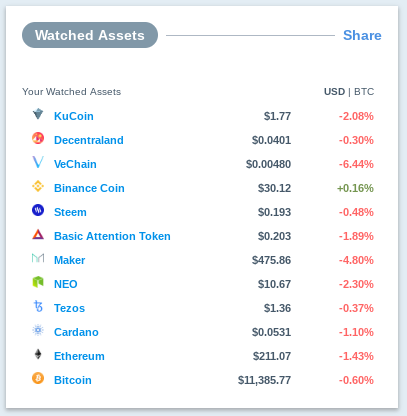 Going forward I think I'll narrow this list down to BTC, ETH, KCS, STEEM, and BAT. Altcoins are really struggling in general so my play will probably be to leave them alone until Bitcoin crosses 15k. I've already been going heavier on my BTC holdings but I may need to step it up a notch. The only coin that has outperformed on my watchlist is Binance Coin, and I recently took profit and sold my position on BNB. I'm thinking some of the market uncertainty will wane once BTC starts pushing towards $20,000 and then I'll start looking for buy-in opportunities with alts.
In the meantime, I'm hoping to see STEEM push back above $0.20 but I'll be more than happy to buy if it goes lower. Here's a more in-depth look at my watchlist from my Messari/OnChainFX profile below. I've been using it as opposed to CoinMarketCap because it allows you to play with more metrics on the main display like *all-time highs, liquid marketcap, and current inflation just to name a few. It's a great free tool to dig deeper into your analysis.