There is a new game that is coming and it is going to use have a Smart Media Token. To my knowledge, this is the first project outside Steem to announce using the protocol. With that, there was very little information provided.
The game is called Megacity and it is a game about cryptocurrency. It is set in a time where the world is controlled by a centralized cryptocurrency. This creates even more inequality than we see today. Fortunately, you find a key to a cryptocurrency that contains 50 tokens. The point of the game is to see if you can get out of Megacity.
Here is a quick video promoting the game.
https://megacity-assets.s3.amazonaws.com/video-introduction.mp4
It is an interesting idea. Nothing like a game that is set to reflect a potential reality. Art imitating life as they say.
On their website, in the Frequently Asked Questions, they specifically mention Steem and the SMT technology.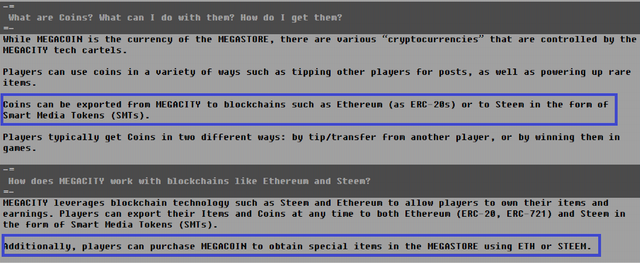 This is a project that was announced some time back as coming to Steem. It is good to see that there appears to be follow through.
Here was their introduction post back in May.
https://steempeak.com/introduceyourself/@cacheverse/from-ethereum-to-steem
Here is their blog on Steem.
https://steempeak.com/@megacity
To my knowledge, this is the first project to come over from another blockchain (Ethereum) and make it known they are going to use the Smart Media Token. While they are still using Ethereum for some aspects, the token is going to be traded on Steem, thus providing another sink for STEEM. One of the biggest benefits to the SMT protocol is the fact that Steem is paired to every token created.
In the video that was the Introduction Post, Erik Johnson stated how the appeal of Steem is the fact that transactions are fast and fee-less. In a game that has a lot of transactions, users continually being hit up with a gas charge is not something that the developers want.
There is an interesting scenario playing out here in that the team is not totally abandoning Ethereum. This makes sense from a development standpoint since what was created remains in place. At the same time, there might be some who prefer to swap their in game assets for Ethereum.
However, with the addition of STEEM, there appears to be a choice users can make. With the success of Steem over Ethereum in terms of users, this could be a beneficial move. At the same time, users are going to learn that there are no direct fees to transact on Steem, unlike Ethereum.
The timing could be very appropriate also. With the potential introduction of Libra and a coin by the Chinese Central Bank, having a game that deals with the peril of centralized, controlled cryptocurrencies could be a power message.
I am looking forward to more details as they come out.
You can pre-register for the game at https://megacity.gg/preregister.
---
If you found this article informative, please give an upvote and resteem.
---
Posted via Steemleo | A Decentralized Community for Investors