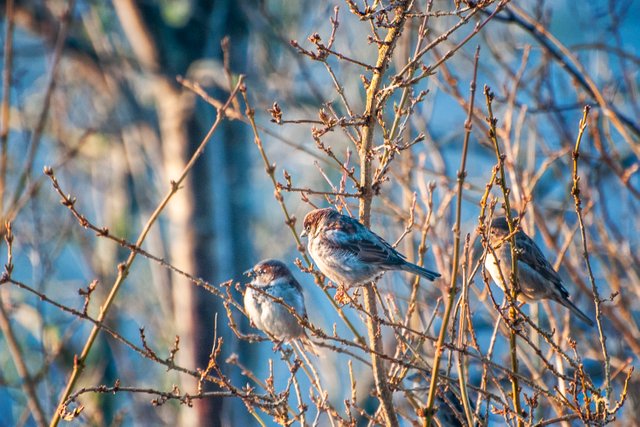 Simple thoughts about spring!
When I think of spring, I think of young life in nature. Then I think of the birds that are chattering with large groups, and how I can enjoy the sound around me.
Silence, except the pleasant chatter of the birds.
They seem ready.
When I see 3 of those sparrows sitting together, ready for the first bird meeting ... yes then it starts to itch. Of course I also see them throughout the winter. But somehow they are less often found together.
Not the usual winter temperatures.
Now with the high temperatures of recent times, well high in the sense of ... they are not normal winter temperatures for the Netherlands, I suddenly see the sparrows sitting together again in conference groups. And even the buds on the trees are already starting to show.
Feels like Spring will invade soon!
Although it is just February now, it feels like spring can invade any moment. And to tell you the truth, I am in favor, it can start from me.
Let this 'Autumn Winter' come to an end.
The sun that shines on my head, the birds that chatter around me and fly back and forth to build their nests. The trees that turn green again, plants that start to grow. Everywhere busy life around me again. This 'autumn winter' has now lasted long enough.
Spring in my heart.
Oh, I know that it will officially take another 46 days, but why shouldn't it be spring in my heart. For that to happen, the sun only needs to show itself ... a bit of young greenery around me and I'm in the mood. More is not necessary.
46 days from now ...
I can only hope that it all starts earlier, in the meantime I continue to look for small things that give me a spring feeling ... and in 46 days I am sure that according to the calendar spring has started.
Posted via neoxian.city | The City of Neoxian