We all are talking of waiting for big investors to come for steem, but having many small investors investing in steem will even make it better.
I was planning to add more steem to my wallet from some time, but after crypt being banned in India, it was hard for me to figure out and buy BTC and then convert to steem. One of my friend agreed to buy BTC from Coinbase and I sent him the amount to his Indian account thus saving me exchange fees. Few days back he bought the BTC at price of $9705 and I invested Rs 2 lakh for the BTC purchase. And since then I was waiting to buy steem, with lot of speculation to try to buy as much as possible. And yesterday, after the market crashed, my BTC value was much down, but I was not heart broken, because I did not buy BTC to encash ( even I don't have a way), but rather convert it to Steem.
And while I was watching the market blood bath yesterday, I thought, it was a good time to convert to steem. When I closed my day at 11.30 pm India time, the market was crashing and steem also was crashing, but it was still not at what I was looking for. So before going to sleep, I had placed a limit order and when I checked this morning, it was filled up.

So it made my happy, but you know our curiosity always pulls us to feel like could I have bought more in the same BTC amount 😝😁, so I went and checked the price in last few hours. As you can see, it actually went till 0.00001484 BTC, so I actually lost few hundred steems, but it was worth the sleep 😎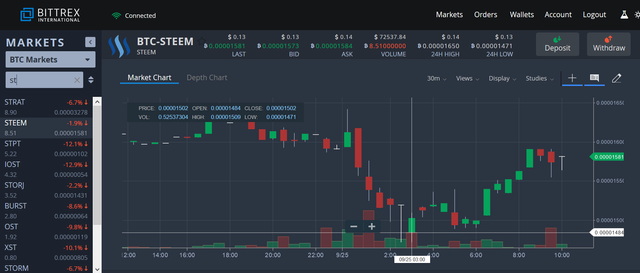 Because by the time I started looking at the price , it already was near the price that I bought, and the market actually looks pretty impressive in terms of people buying large amount of steems.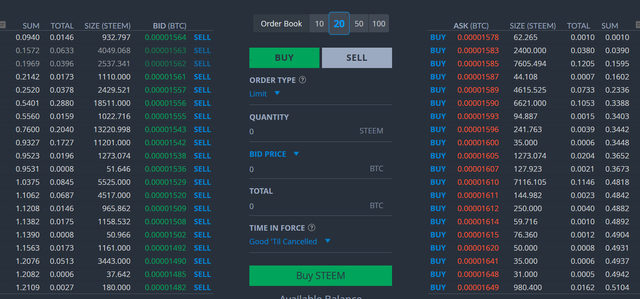 Now I am looking for ways to transfer the steem to my wallet, but I did it long back and not able to recollect how to do it now. Has anything changed with recent hot fix that will change the process of transferring steem to steem wallet ?
If someone can guide me on how to transfer from Bittrex to Steem Wallet, or point me to a post, that would be very helpful.