Out of the blue came the following email: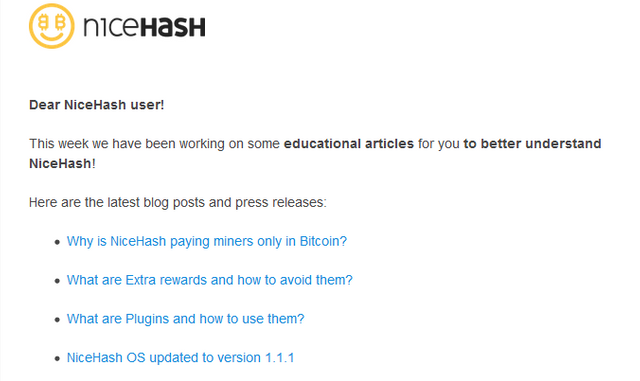 Educational content from a cryptocurrency mining platform? The one that is famous for the biggest security breach and crypto steal? Eh ...
Secondly, I haven't heard from them in ages.
Here is the brief history of the messages of their important changes and my involvement:
November 30th, 2016 - my registration at the site
September 6th, 2017 - news about switching the platform to the new site
December 7th, 2017 - $64 million steal happens
July 4th, 2018 - a new platform, again
October 11th, 2019 - Nicehash weekly newsletter - what for?
I won't read any educational material provided. Yet, I am actually thankful that they came out of their mousehole.
They reminded me that I still have some small amount of Bitcoin on their platform. I will withdraw it, gladly.
---
What about your experience with crypto mining platforms? Do you use them, do you mine yourself or lease mining facilities, be it real or virtual? Do you trust them?
After everything that has happened, I don't trust any of these platforms. So my educated advice to you would be not to use them.
In the end, it is your money and your decision, of course.
Happy investing and managing your crypto assets.
Better and better