Hey everyone. Well, I have been accumulating some DEC on my Splinterlands account for several weeks now. Instead of pulling some out of the game, I decided to reinvest it. First, I purchased an orb and am currently using the mystery potion. So, how has my luck been going with them? Have a look. First up is the orb.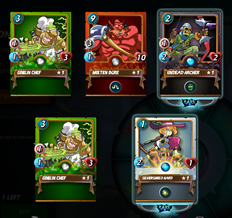 These are okay cards, but they are nothing special. It would have been much more profitable to just buy them individually, but the hopes/thrill of possibly getting a GF legendary makes us want to give it a shot. Out of all the orbs I have bought, I have only gotten one several weeks ago with a positive ROI. As I previously mentioned, I am currently one day into my mystery potion and so far it can only go up from here. On Day 1, I got a regular creeping ooze. I am going to get something good before the rest of the time is up. Maybe I can get lucky with a few packs, orbs, or hopefully the legendary dragon summoner, but we will see.

Also, recently I did have a little luck with my DQ and picked up a Ruler of the Seas. Not a bad day when you can get a $5 card just by winning a couple of battles.
Thanks for reading and stopping by!