Hi everyone!
I did not made any investments in the last two days, but I spent some time to learn the mechanics of the new game, and to optimize my city:

Popularity:
The popularity is important for two aspects.
First, a popular city attracts workers, but also immigrants and homeless persons. Currently, my city has a 15% chance to receive new citizens every two hours.
Secondly, the popularity gives a boost to population. For example, a city having +100 popularity will also get a 10% boost in population.
And this is important because employees are the ones making the businesses running. Most of the buildings are increasing the popularity, but immigrants and the homeless are damaging it. Therefore, it is important to keep a good balance.
Beer Fest:
For 5 BEER (the BEER token tradable on Steem-Engine) you can have this special event in your city. This event gives a random bonus to popularity, and a 20% chance to get either a Worker, or a Hard Worker card.
Second Account:
In order to be able to optimize the performance of your city, a second account is a must. Why? First of all, to get rid of cards that don't fit well in your current setup. As an example, if you don't want to damage your popularity, you might want to move the immigrants to a second city.
The same is valid for the buildings that gives you a temporary penalty (again an example, if you don't won more that ten cards, a Garbage Dump will give you an unwanted minus thirty on your popularity - yes, no one likes to live on a garbage dump).
Optimizing the Income:
There are two sources of income (in SIM tokens): taxes from the houses, and earnings from running businesses.
A business needs workers, and it will produce money only if it's fully stuffed. Some businesses are performing better than others (for example, a Bank makes 30 SIM with 20 workers, while a Factory produces less money, with a double amount of people).
Unfortunate, you can not decide where the people should get hired, and they get assignments based on the id of the cards. And here again you have the need of a second city, to move there the unprofitable businesses, and use the workers for more efficient things.
PS: While writing this article I discovered an even better configuration, therefore it's important that you play around with different scenarios: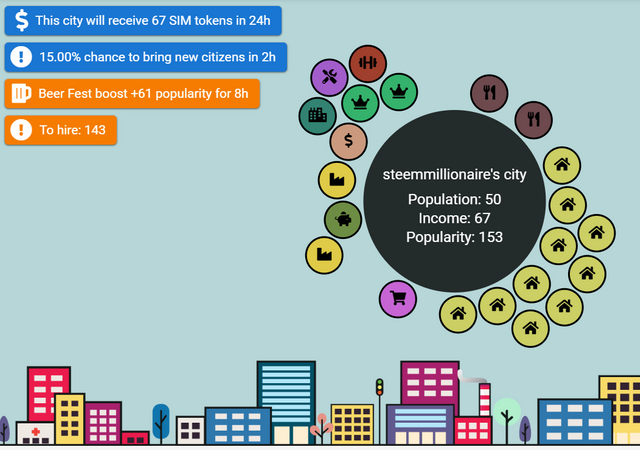 Posted via Steemleo