Spring memories from a long gone moment.
Oh, that feeling of spring, and the feeling of a 'throwback in time'. Why that feeling today? Well because today I received a reminder via Facebook from many years ago. That memory showed me a long-gone moment of happiness.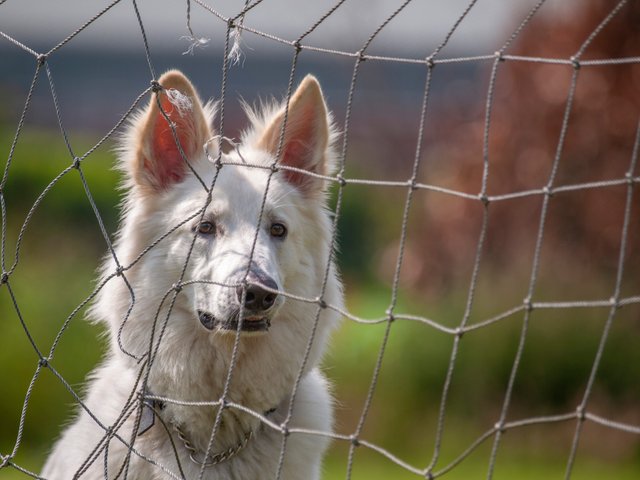 That expression on his muzzle.
The moment the sun shines in January, and you and your dog start playing on the large meadow behind the house. The moment that you make your dog happy with playing football together. Doing crazy together, having fun together and enjoying a spring day together in January through the sun, which shines wonderfully on your head. And the expression on his muzzle that showed me that it didn't make sense to him why there was that weird net between him and me, and he couldn't just push his ball through that net.
Keep this memories close forever.
Those memories are deep in my heart, and 1 month after Rowan's death I can look back on these memories with a smile. The pain of his death is still there, it will remain that way ... but now I can laugh again at the many crazy memories I have of him. And when I see such a photo passing by, I can enjoy that moment again ... Rowan has been so intertwined in my life for 11 years, he has left so many precious memories in my heart. And in this way he lives on forever
Spontaneous spring feelings.
On a day like this where such a sunny memory comes by, and I look outside, where the sun shines wonderfully ... Yes, I get a spontaneous spring feeling. And although Rowan is no longer there to enjoy the sunshine with me, that doesn't mean that I am not going to enjoy this moment!
There is only today!
You only have today, tomorrow is an uncertainty for everyone ... so live today and tomorrow you will see what's going to happen. Today is a day with wonderful sunshine, so time for me to enjoy what is possible today. I saw this morning during my walk that crocuses were already emerging, that tulips seem to be coming again ... and that gave me a wonderful feeling of "Spring is coming!".
Spring around the corner!
It looks like spring is already peeping around the corner. Now we hope that a severe winter does not suddenly visit our country at the end of February or the beginning of March.
61 days left, according to the official calendar
Posted via neoxian.city | The City of Neoxian