The changes of legislation in the world's financial system, will positively impact cryptocurrencies that are ready for merchant adoption... SmartCash is ready 😊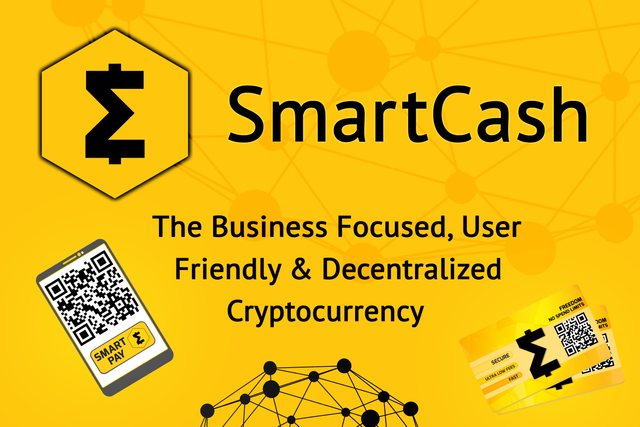 Source
It was December of 2016 when I got into cryptocurrency, I remember being in the dilemma of where to keep some cash I had. The times were very uncertain and I was just fed up with the way banks worked, I saw in crypto a way out of the financial system and thank God I went for it.
Me along with my very smart wife started to trade crypto and to learn as much and as fast as we could, we got the point of Bitcoin, the smart contracts of Ethereum, the scammy way of Ripple, we learned about Monero, Dash, Neo (AntCoin), etc.
After a while, we realized that for cryptocurrency to go to mass adoption and to mainstream, a change of mind was needed in the ecosystem, back then, there were too many fights among the various concepts of crypto and within the Bitcoin realm as well. We soon figured out that cryptocurrency needed a coin to only focus on decentralization, a coin community oriented, a coin that regardless of fame and price would be directed only to MERCHANT ADOPTION.
We found BitBean (now Bean cash) and it kind of got our attention because they were already promising a Point Of Sale system which as we understood it would bring this crypto to mass adoption faster that all the others.
Bit bean was a community oriented project and best of all, it was a Proof Of Stake coin which promised to head towards decentralization also faster than any other coins out there, later we found out that it was just one more scam, there was no team behind it but only one single person doing everything, including whaling the project and cashing out his Bitbeans big time.
We didn't lose any money and thankfully we cashed out during the 2017 crypto peek... then, SmartCash came along.
SmartCash presented itself as a community oriented project, the SmartHives, the Proof Of Work that was also kind of working as POS (Proof Of Stake), the SmartNodes and the great rewards grabbed our attention.
We set up a few nodes and started dreaming big, it wasn't cheap by any means to jump aboard the SmartCash train but we decided to trust the project; not for what they said they would do, but because of what believed the cryptocurrency ecosystem needed and because of what SmartCash had to offer as a future project.
We've been patiently waiting ever since. We've been seeing our portfolio shrinking deeper and deeper, it looks at times that SmartCash wouldn't find its bottom, but then great news of amazing developments come out and our sweet dreams become joyful once again.
When we hear of how easy it is to transact with SmartCash, how easy is to pay wit it in Brazil, Mexico, Costa Rica and Portugal. When we hear that Point Of Sale is a reality for SmartCash, that coin-swaps are present in the SmartCash wallet and many, many other outstanding features that the team has applied to the SmartCash blockchain, then we realize that we were not that far from the idea we had about what cryptocurrency needed.
Today, Russia and The United Stateshave announced their respective amendments to their laws to tax and regulate cryptocurrency . These changes in the world's financial system will affect the Cryptocurrencies that are indeed ready or close to be ready for MERCHANT ADOPTION...
B I N G O!!! Jeffrey Tucker, our idea about SmartCash is finally becoming a reality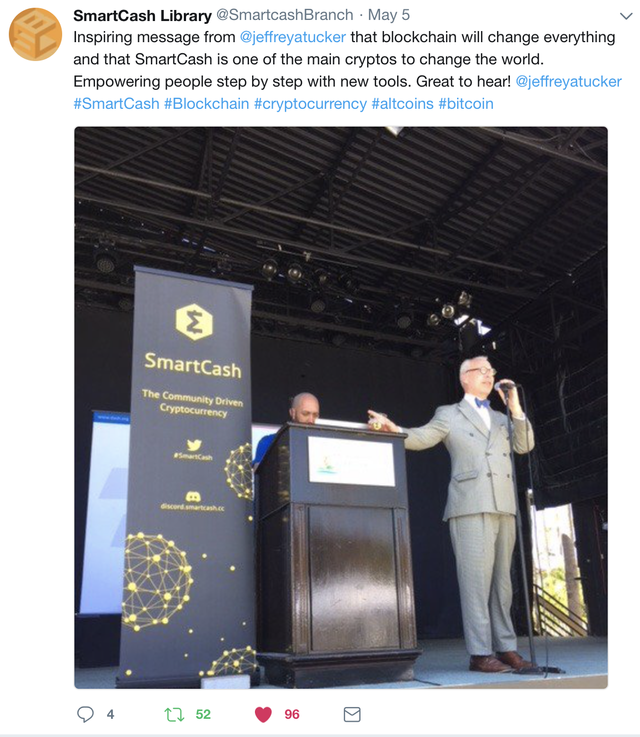 It will take a few more months or maybe years for the crypto-community to understand and appreciate SmartCash.
As I said before in one of my previous posts, SmartCash hasn't make the move upwards yet. I'm sure the positive technical analysis of its chart and the fact that SmartCash will be featured in the biggest Anarchist Conference in the world will take this project to the moon.
I hope you guys get interested in decentralized and community oriented projects as my wife and I did in 2017....
GET READY FOR THE MOON!!!