Hello all. I hope everyone had a nice, happy and healthy holiday season. I was gone on holiday and am just now getting in the swing of things with my routine back home. With that said, that brings us to today's club vote which will be centered around our next off chain investment since our STEEM savings wallet is quickly growing again.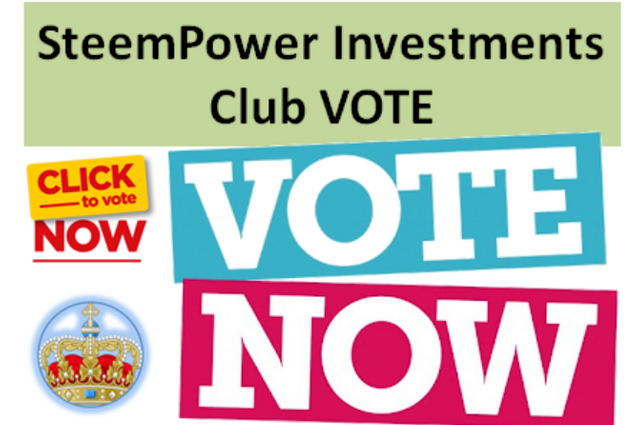 Remember, we are going for slow and boring growth. SPinvest was set up to get rich slowly, so with that, our investment options this week will reflect spinvest's motto from the origin's of @spinvest. Albeit our goal is to get rich slowly, the growth we are seeing has honestly been quite rapid given the project only being 7 months in. We are nearing 5,000 STEEM in off/on chain investments and once we decide and confirm this week and next week's vote of the amount we choose to invest, our hodlings will have surpassed 5,000 STEEM. Exciting stuff continues here with @spinvest and all branch accounts @spinvet-leo and @spinvest-neo
Our investment options for this week will be either:
P2P lending
Stock and Shares
Gold
Bitcoin (BTC)
Some of the investment options may look familiar from previous club votes, but they match perfectly what we looking for and there has been some interest in them in the past. This weeks focus, similar to past votes, will be on investments Mr Sp invest has some prior experience with and knowledge about. I trust him thoroughly and believe the options presented for this vote align directly with our goals and vision as a club that have been detailed and outlined in the partnership agreement.
P2P Lending Option
In the past, this option has been a wild card option, but could very well be a realistic investment option for the club. Mr Sp Invest has also mentioned that he has invested in P2P lending via Ratesetter in the past. I know previously he has mentioned having an account and could potentially still have access. Ratesetter provides peer to peer lending and offers lender contracts that are either monthly, yearly on a 5 year basis.

Current interest rates are something like ~3.1% (up from 2.6%) for monthly, ~3.8% (up from 3.6%) for yearly and 5.9% (up from 5.3%) for 5-year lending contracts. This could be a nice addition to our current off-chain investment portfolio and something to add to from time to time, building slowly over time (just what we like). 5 year contracts pay monthly interest and could provide an opportunity for compounding growth as well. Something to keep in mind when voting.
Stock and Shares
Without getting too overly complicated, a tracker fund mitigates most volatility and generally follow market patterns. Single stocks carry more risk and it would take forever to decide on one or a few to invest in. An FTSE 100 tracker could be a good starting point to begin an off-chain stake in stocks and shares. In a nutshell, FTSE 100 is a fund that invest's in the top 100 UK companies based on market capitalization.

The yearly average returns are ~5-6% including dividends on top of any returns. As companies fall in and out of the top 100, holding are updated. There are of course different types of 100 trackers but a simple, well trusted one that pays out a dividend semi-yearly sounds right up our alley. The selection would be the "HSBC FTSE 100 Index Fund Accumulation C". This is a time tested and proven 100 tracker fund. It's a boring investment but auto compounds down dividends and simply holding could turn something small into something big in the future. These would also be held with AJ Bell investments. If you'd like the club to dip into stocks, then this is your pick.
Gold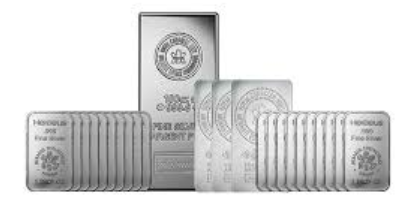 Gold is the behemoth when it comes to precious metals, the same way BTC is in the world of cryptocurrency. For the reason stated here, we will give gold a chance to be added to our investment portfolio. We recently added silver, so gold may not be a bad investment for the club to dip in to. If you wish to invest our STEEM savings into another precious metal, then this is your pick for this weeks vote.
Bitcoin (BTC)
We already have more than 900 STEEM invested in BTC,up over 60 STEEM or so from our original investment. With that said, wee could add more BTC into our Celsius Wallet which is now earning roughly 3.8% per year (between 2-6%) in interest. The interest rate seems to change/update every week. We used BTC as the sample tester investment so we all understand the process is straightforward enough and there's not much more needed to said here since we all our familiar with this investment option If you'd like the club to hold more BTC, then this is your pick for this club vote.
Club Voting Rules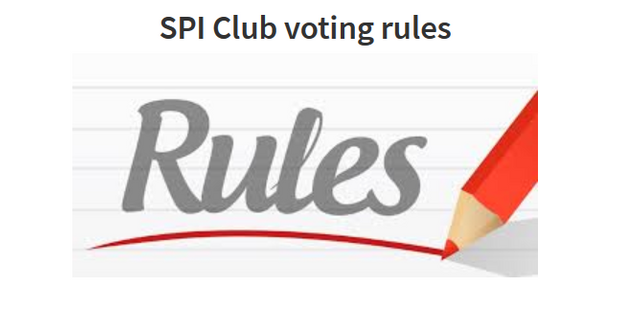 Confirmed SPI club members only
1 vote per member
Your vote must be cast as a comment to be counted
Voting more once will result is no vote
Voting will last for 7 days until post payout
Results will be edited into this post
How to Vote
In the comments below, there will be comments by @spinvest-votes. Each comment will contain information about each selection. To cast your vote, please leave the reply "Confirmed SPI member" to your selected option. There is no need to upvote but i can't stop you. Remember, it's as easy as 1,2,3
1/ Make your mind
2/ Find your selection in the comments below
3/ Leave a reply with the wording "Confirmed SPI member" to cast your vote
Here is an up-to-date list of all confirmed club members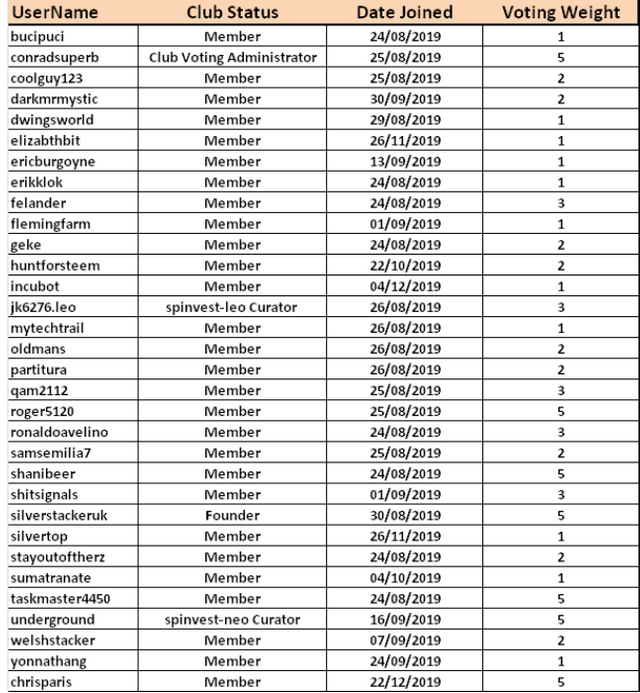 Time to vote - GO!