The results for club vote #010 have been tallied, added, and placed into the chart below. The chart is rudimentary and shows each vote option with the accompanying vote weights summed together. The vote was fairly heavily weighted toward BTC, an investment option we have a bit of hodlings in already. The BTC we currently hodl is earning a bit of interest in our Celcius wallet, which is nice but with the price swing in the market, it may be beneficial to wait for our purchase of BTC to begin.
| p2p lending | stocks and shares | gold | Bitcoin |
| --- | --- | --- | --- |
| 0 | 0 | 14 | 25 |
With that said, our vote this week will stem from a recent post by the spinvest main page @spinvest discussing the recent happenings via steem-engine. Someone has been undercutting the price and we must find a solution to this problem sooner than later. This week's vote is a perfect opportunity as we can let BTC and the rest of the market cool down a bit before choosing our amount of STEEM building in our savings wallet to invest in Bitcoin.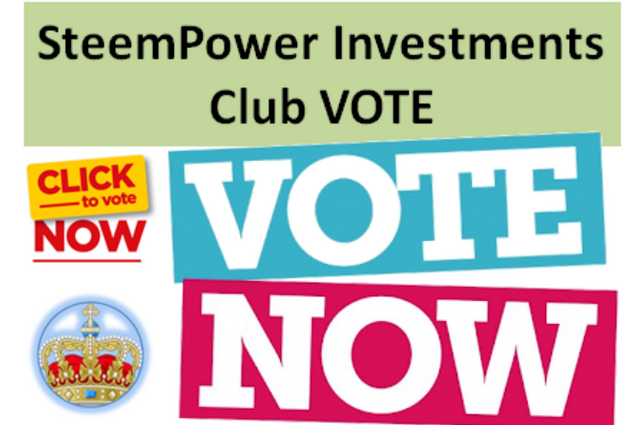 In this weeks vote, we will be deciding how we will go about dealing with the problem we are continually seeing on steem-engine. The problem as outlined very clearly in the spinvest post found here is with someone buying and reselling SPI tokens making a small profit while undercutting the price. Not cool!!
So, here are this weeks voting options (see this spinvest post for even more details):
Option 1:
Set a 99.99% buyback wall ASAP with available resources
This option is exactly as it sounds. Use all resources to build the buy-back wall as quickly and efficiently as possible. The quicker it's built, the quicker we can start powering up SP again. After a few weeks, we will have a decent idea of how much STEEMP we will need to keep in the SE wallet to adequately cover us and prevent this from happening in the future. After we figure out the magic number, we can start powering up STEEM again. We have fiat worth around 1200 STEEM which we'll be getting access to soon whenever the next off-platform investment completes and we collect another 300-400 per week in lease payments and post payouts. We have other income as well but they require some work, but would equal another 100-150 STEEM per week. This is the get 'er done option and the one that says kiss your pennies a day paycheck goodbye.
There could be some other sub-options under this umbrella, but the point now is to decide first on what we want to do. If there needs to be another vote drafted up and put out about this issue, we can discuss further and decide when the times comes, but we need to move. If this needs to happen the vote post would be drafted before normal scheduled voting posts so we can get a move on and put an end to this problem once and for all.
Option 2:
Completely Delist from Steem-Engine Altogether
Middle finger to SE and walk away. Spinvest would cancel all buy and sell orders on the exchange and simply focus on direct selling. The SPI token price on the exchange would be freely what the market decides. As trading would still be taking place, a lot of SPI tokens would still be recycled and this would not really fix the problem. It is, however, instant and easy to reverse and could be a temporary fix until other things are sorted.
There would be a lot of pressure to directly sell tokens and SE would in a way become the competition. Right now we issue around 20-40% of tokens directly so there would be a lot of work required and growth would almost for sure slow down as many people will not know the difference.
Option 3:
Become an Independent and Free token
A new idea where club members would be holding SPI tokens in their own wallets. Going token free would 100% fix the problem and we would have full control over the issuing and buyback prices.
In short, this would be you needing to send all your SPI tokens to @spinvest to be burnt in exchange for a brand shiny new SPI unit that is a number on a chart and not recorded on the immutable blockchain.
This option does have a few key advantages in regards to managing everything more efficiently and the recording and tracking of precise data. There is actually nothing wrong with taking this option, it can be done pretty instantly and all sorted within a few weeks but it does still remove SE as a source of growth. This could be an excellent plan B and would possibly lighten Mr Sp invest's workload.
Note: This post only refers to the vote for this week. I advise all club voting members to find their way over to spinvest post that has been referenced multiple times in this post to see advantages and disadvantages of the buy-back wall, repercussions and implications moving forward, and just more detailed info. in general. The point of the post was to get the word out about this issue, but to also make the vote posts easier for myself as well. A thank you to MR. SP invest, @silverstackeruk himself.
Club Voting Rules
Confirmed SPI club members only
1 vote per member
Your vote must be cast as a comment to be counted
Voting more once will result is no vote
Voting will last for 7 days until post payout
How to Vote
In the comments below, there will be comments by @spinvest-votes. Each comment will contain information about each selection. To cast your vote, please leave the reply "Confirmed SPI member" to your selected option. There is no need to upvote but i can't stop you. Remember, it's as easy as 1,2,3
Make your mind
Find your selection in the comments below
Leave a reply with the wording "Confirmed SPI member" to cast your vote
Here is a list of current confirmed club members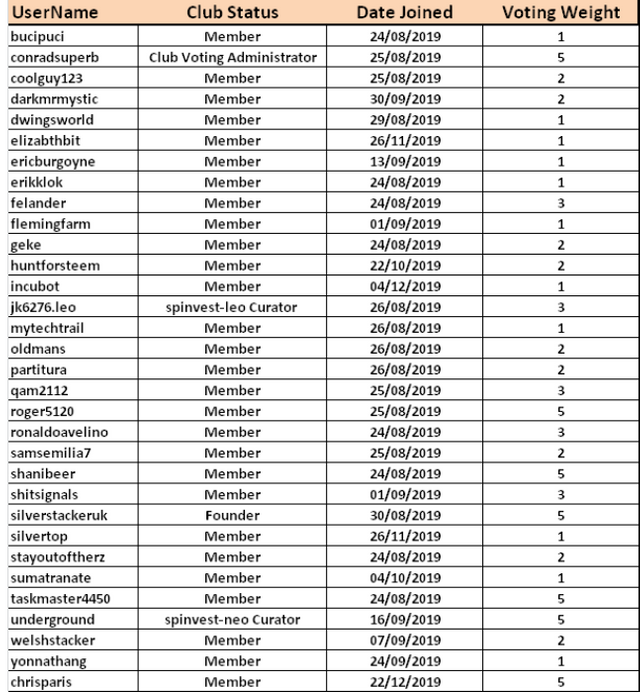 Voting Window Now Open... GO... Remember to think twice or even three times about this weeks vote