Many of us have been enjoying the game Splinterlands but did you know that there's more to the Splinterlands universe than the game itself. In this topic we will go over some of these other aspects.
Third Party Market Places


Splinterlands has become a very successful game and with success comes third party sites adding to the functionality and ways we interact within the Splinterlands universe. One of these third party sites is Peakmonsters (@jarvie) which is a site similar to the marketplace of Splinterlands but with many more features added.
On Peakmonsters you can buy/sell cards and place bids on the cards of others. It also has many other cool features that are not limited to displaying your collections USD worth using three different formulas (Asking Price/Bid Price/Market Price) and allowing us to rent or rent out Splinterland cards. Peakmonsters URL: https://peakmonsters.com/
Peakmonsters might be the best known third party Splinterlands site but it isn't the only third party site in town that allows us to buy/sell Splinterland cards. MonsterMarket (@reazuliqbal, @zaku) is another and it also allows us to buy and sell Splinterland cards within its marketplace. It has an easy to use interface and familiar layout. On the site they advertise an instant 3% cashback on all card purchases/ 2% on Pack Purchases. MonsterMarket URL: https://sm.steemify.me/
SPT Tokens


Most of my regular readers already know about SPT (Splintertalk Tokens) and how to earn them but lately I been browsing the Splinterland and Steemmonsters tags on the Steem Blockchain and the amount of people sharing info about the game who aren't using the SPT tag was a little surprising. On any given day I can likely find at least 2-5 post about Splinterlands that doesn't have the SPT tag on it.
Why use the SPT tag you ask? Well because SPT stands for Splintertalk tokens and using the tag SPT will allow you to potentially earn some of those tokens. Splintertalk is a front end that allows us to interact with the Steem Blockchain. When using said site we earn all our regular blockchain rewards (Steem/Steem Power and SBD) and on top of those regular rewards we also earn the SPT token which can be sold/bought or traded on the Steem-Engine exchange.
If you're creating a Splinterlands themed post I highly suggest you use the tag SPT or post said content from the games official front end https://www.splintertalk.io/. But wait .... https://www.splintertalk.io/ isn't the only way to earn SPT for creating Splinterland content ..........
Splinterlands Forum
Splinterlands (Steemmonsters) has an official forum. Most monster maniacs know about splintertalk.io but I bet a few of you never knew or possibly even forgot that there is an official forum as well.
Like on Splintertalk.io the forum is for all things Splinterlands and content creating and curating will award you with the SPT token. There's some advantages to posting on a forum instead of on your main blog.
For example forum post need much less detail and care to be considered valuable content compared to a blog post. For those of us who frequent forums throughout our internet life we know that its not uncommon to open a forum topic that contains just a couple sentences. This is widely accepted behavior on almost if not all forums internet wide.
So if creating images and lengthy blog posts aren't your thing (or even if they are) then head on over to https://monsters.tokenbb.io/?nav=home to start earning the official Steemmonsters token SPT today!
---
Splinterlands (also known as Steemmonsters) is a digital card game created by @aggroed and @yabapmatt. Early game release has launched and prizes are already up for grabs. You can get started with investing in or playing Splinterlands by clicking here.
---
Did you know about all the ways to interact and potential ways to earn that are listed above? Lets us know in the comment section about some of the third party Splinterland sites you are using.
---
Splinterlands Total Market Cap Report:
$4,662,957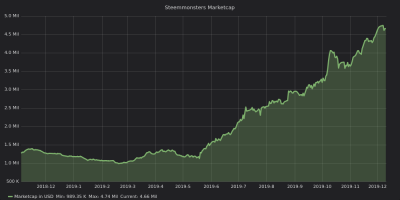 Less than 24 hours ago I reported the Splinterlands Total Market Cap to be at $4,662,957. Today we see that number increased to $4,669,493 which is about $7000 in growth within that very short time span. I predicted we see a Splinterlands market cap at $5 Million before we reach 2020 and I'm sticking to that prediction. If my prediction falls short I don't think it will be by much.
Click here to start playing or investing in Splinterlands today!
---
Shared on Reddit: https://www.reddit.com/r/steemitposts/comments/e97nsm/peakmonstersmonstermarketspt_tokensforum/