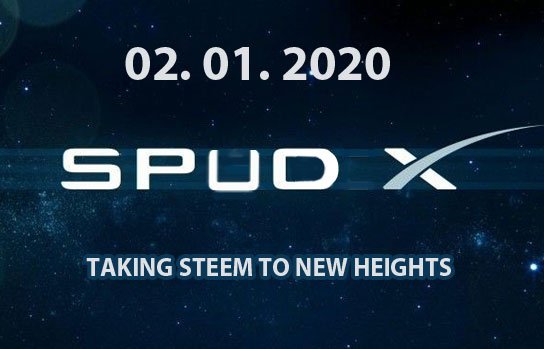 STREETSTYLE
Nuevamente cedo mi espacio para darle publicidad a uno de los movimientos que está causando grandes dividendos a la plataforma Steemit, se trata de SPUD, un proyecto creado por el amigo @streetstyle y ahora afianzado por @xpilar, SPUD ha llegado a su evento numero 10 (SPUD X) y viene más repotenciado que nunca con grandes premios y delegaciones en STEEM.
#SPUDX ESTARÁ ENCENDIDO ESTE 1RO DE FEBRERO
SPUD va directamente dirigido a los usuarios que inviertan en SteemPower el 1ro de cada mes, en este caso, el !ro de Febrero. El evento estará soportado por aportes de @improv, @davedickeyyall @streetstyle, @mcoinz79, @Bippe, @Reflektor, @Sultan-Aceh y @hingsten, quienes de manera voluntaria han puesto un grano de arena para que este movimiento tenga exitos y motive a todos los usuarios a activar sus Steem en SteemPower
Visita la publicación de @xpilar para verificar las reglas y las remuneraciones dispuestas para esta ocasión, pulsa Aqui.

Once again I give my space to give publicity to one of the movements that is causing great dividends to the Steemit platform, this is SPUD, a project created by my friend @streetstyle and now consolidated by @xpilar, SPUD has reached its 10th event (SPUD X) and comes more than ever with great prizes and delegations in STEEM.
#SPUDX WILL BE ON THIS FEBRUARY 1st
SPUD is aimed directly at users who invest in SteemPower on the 1st of each month, in this case February ! The event will be supported by contributions from @improv, @davedickeyyall @streetstyle, @mcoinz79, @Bippe, @Reflektor, @Sultan-Aceh and @hingsten, who have voluntarily put a grain of sand in making this movement successful and motivating all users to activate their Steem in SteemPower
Visit the publication of @xpilar to verify the rules and the remunerations arranged for this occasion, click Here.
This is an Invitation to join #ccc for Guaranteed 👍 Daily Income 💵 and Payout 💸 for Newbies (2.0) 🐟 🐜 🐛 in #ccc 👣 and Follow 👣 the Honor Code 🏅 - the Creed (Conditions and Limits Inside)
AND
the latest update <<< please click to read.