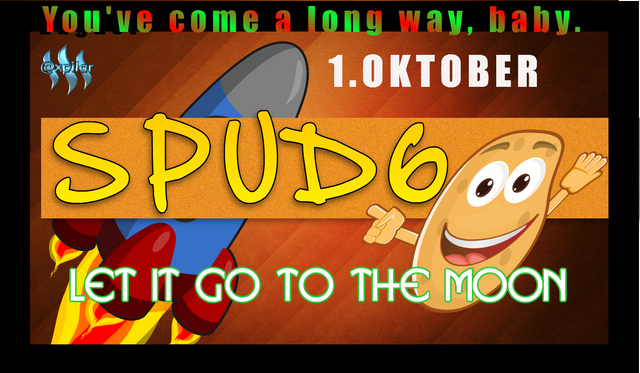 credit to @xpilar
SPUD6 and the birth of New Steem.
Hi Steemian how are you? Hopefully always healthy and creative work.
SPUD6 has been announced by @stretstyle.
SPUD is a movement built by @streetstyle. Through SPUD, we are invited to make one of the chosen days to do power ups on the steels they have. On that day it is recommended not to power down, sell or transfer Steem. With SPUD the Steemian will be able to increase the power of votes and curation that they get so that they will make the accounts and the curator happy. It also can add RC owned.
Another great thing is the support from other Steemians as participants or sponsors. In SPUD6 which will be held on October 1, there have been recorded sponsors such as @xpilar, @sultan-aceh, @bippe, @hingsten, @reflektor. i am sure many steemian will support again. Thank you for all your sponsorship
For further information you can read this post from @streetstyle
Yodeling About SPUD6 Prizes From the Mountain Tops - October 1, 2019 [steem] [blockchain]
Also this post from @xpilar
"SPUD 6" STEEM POWER UP DAY 1.September 2019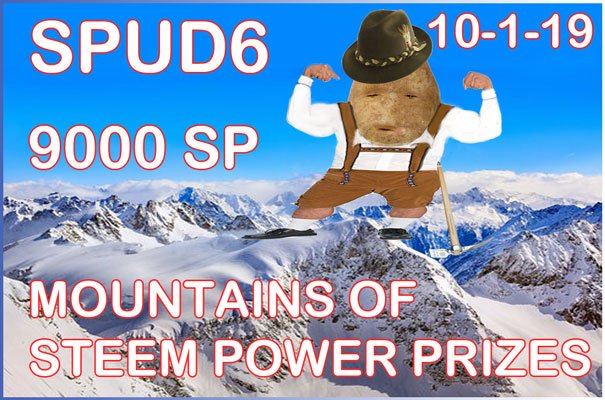 HF21 / 21 and New Steem
After SPUD5 was interrupted during maintenance of all APIs related to STeem, then it's time to ignite the spirit to make up for the "shortcomings" of SPUD5. After lining back, we are in a new steem world. The birth of New Steem is certainly a lot of changes and what's quite interesting is the increase in the value of curation.
The value of curation goes up shows us to support SPUD. With SPUD, Steem Power will continue to grow and can become one of the supports for economic growth in Steem.
Through this SPUD we can make Steemit as a good ocean for community growth and development. This is all hopefully can be a road like a forest that is able to provide oxygen so that it will be able to continue the journey. It's like the background on the @streetstyle post that uses the Alps Peak.

So, Lets ring the bell.
Go...SPUD to the moon!!!
Thank you for reading my post.
Warm regard from Indonesia