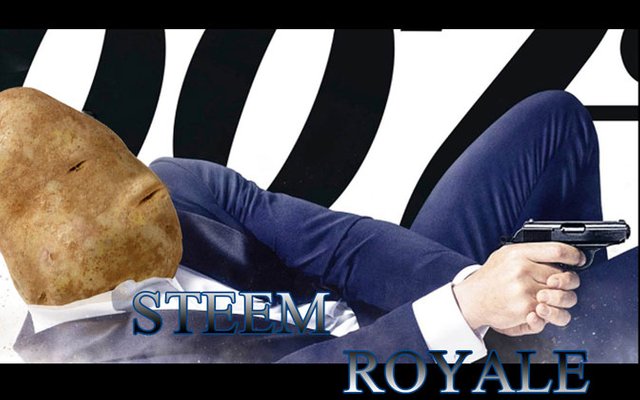 source
Steem Bond Story- Find a Nice Gun, a SPUD Moviement
Hi Steemian How are you today? I hope you are healthy and creative to work.
SPUD will coming soon.
Today Steem Bond wears a blue suit with white clothes and black shoes. he immediately took the smartphone that was on the desk and immediately drove the Spudnick007.
Today he plans to complete part of his mission. As an agent of SPUD7, Steem Bond try to finish his mission. The central Headquarter asked him to the hard mission if we don't want to say impossible.
@Streetstyle as a chairman asked him to take all Steemian make a big movement on November 1. This mission which known as SPUD. SPUD which initiate by @streetstyle and support many Steemian such as @xpilar, @sultan-aceh, @reflektor, @bippe, @hingsten, @improv and the others. They support SPUD as a sponsor and make SPUD not only just a movement, but also an excitement, togetherness and an a competition too. The prize will more than 9,000 Steem. This movement become a great one in Steem.
Steem Bond try to do his duty well. He start in the middle of October to post and read some posts. Then he know that many other Steemian who didn't clear about SPUD. So he try to explain about it. And if other Steemian want to know further Please read this post.
Steem Bond also suggest all his friend to do power up on November 1. Even though many Steemian also do power up everyday. So he give his appreciation for them. It mean that SPUD's spirit has influence their steps.
He is sure that SPUD7 will get more participant. He never bored to explain about advantages of power up. By power up will enlarge RC and Voting Power, make stronger the value of upvote and curation. So it will be a nice gun for Steemian.
He suggest every Steemian will use chance to power up in November 1. We will know SPUD7 at the time. We hope Steem Bond will smile widely to SPUD7 success.

So, On November 1
Lets SPUDding
Just Power Up
No Power Down
No Sell/Transfer Steem
Warm regard from Indonesia
@rokhani

Thank you for reading my post. I hope you enjoy it.