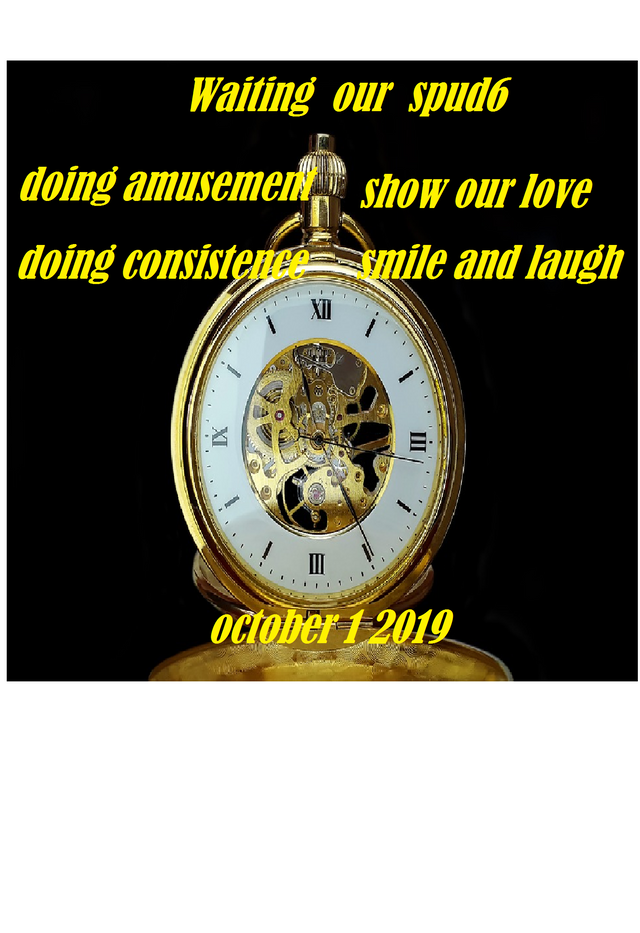 Waiting SPUD6
Hi Steemian How are you today?
Today is the last day in September 2019. So we just waited for some hours to welcome October1.
Yes!!
It's SPUD6 time

We know that more eastern place will do power up earlier.
We know some participants make this SPUD will be the last, such
@alokkumar
. But it is not mean he won't support SPUD. When I read his post that said it will be last in SPUD I said it the last as a participant for get chance as a winner. Then I say every Steemian can participate to support SPUD. The form of support can be a sponsor, a participant, or make content and post it.
We has read many post in #spud and #spud6. Many good post we can get. Many moral value in this movement which motivate everyone. We understand that SPUD has become symbol of our spirit to concern STeem. Behind this initiative was @streestyle always struggle in Steem world. many support which make SPUD become more interesting. SPUD not just a movement, but also a amusement, learn, earn, and a competition. We know SPUD6 has sponsored by @streetstyle, @xpilar, @sultan-aceh, @bippe, @hingsten, @reflektor, @davedickeyyall, @traciyork, and @improv. THe prize more than 9000 Steem will be given to the winner.
We can read about the #spud6 in 3 Days Left Before SPUD6 - Prizes Update - [steem] [blockchain] [community]
We are so proud of this movement. Take a part in this movement make me think that this platform has unites various people from different parts of the world. There are no ethnic, racial, religious, cultural and religious differences in sight. All are united and determined to love Steem so that a global entity will form.
Because time will continue to run close to the change of date and month, then immediately prepare to welcome SPUD6.
Let's support SPUD6 with

Just Power Up
No Power Down
No Send/transfer Steem
no Sell Steem in October 1
Warm regard from Indonesia
@rokhani