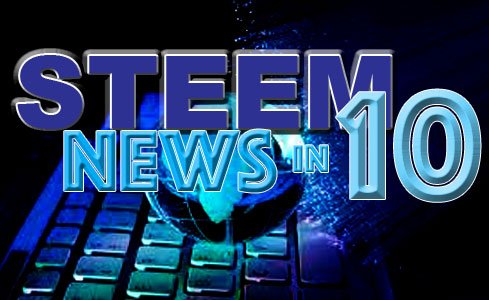 Making the News
First off, Thank you @pennsif for putting the SPUD initiative in your Steem in 10 News Letter. This helps spread awareness of the ongoings of the Steem blockchain and of course lets Steemians know about the Steem Power Up Day initiative. SPUD has now become a monthly event taking place on the 1st of every month, with the next one taking place on November 1st, 2019.
I always like to remind everyone that the Steem Blockchain is actively running around the world with Steemians participating from all over the world. This means that the SPUD event technically last more that 24 hours as it makes its way around the world, which I find fascinating for some reason which I just can't explain. I don't know if it is the idea that "my 24 hours" are different than someone else's half way around the world, or that SPUD actually last 48 hours as it traverses the world's time zones, or just maybe that SPUD is a Global Event that takes place throughout the World amongst many Steemians from many different parts of this Earth. What it maybe, I am still not sure but I am still in awe of that fact that the Steem community is so supportive of SPUD and isn't tired of it yet. In fact, it seems to still be growing as the word spreads about Steem Power Up Day and its prizes.
Now speaking of spreading the "news" about SPUD, I noticed that Steemian @pennsif has a newsletter he puts out about events taking place on the Steem blockchain. In one of his post, he does a brief snippet of the top stories going on, and SPUD was one of these stories. Seeing this I was inspired to do something in return.
I decided that I would create a simple digital design of @pennsif 's title, "STEEM News in 10." I spent about an hour or so in Photoshop. Using my limited supply of fonts and then design, skills I came up with this design you see here. I know it is not very good, but I just wanted to show a small token of my appreciation for the SPUD mention in the newsletter.
Next I gave the Photoshop file to my brother, who actually does make logos for a living, asking him for some of his artistic input except I put a stipulation. I asked him to take the file I had given him, which is the one you see posted here, and to only spend 20 minutes, and no more on editing this file to make it better. I explained to him that it was a small token of appreciation, that no one had asked me to do this and that by placing a 20 minute time constraint, it became a learning challenge for him to see what he could do in a time crunch.
Stay tuned for his rework of this design.
Again, thanks for the mention and support @pennsif Please just take this as a token of appreciation and nothing more.
To everyone else, bring on the SPUD7 MEMES, LOGOS, and POSTS, using the SPUD7 TAG to GET A 100% UPVOTE from
ME, and YOU NEVER KNOW WHO ELSE!!
Take care Everyone!
+++ @streetstyle