Let's get Steemy
I reviewed my posting and curation history for October 2019 and I want to share my #SteemJournal with you. Today is November 1st which means it is #SPUD 7. A lot happened during October and I consolidated some of my opinions, especially on curation, CSI and SEO.
In my opinion, a Steem Journal is a monthly summary of my thoughts and activities on Steem. I wrote something similar last month. This is, therefore, My Steem Journal # 2. However, I'm not going to count because it is irrelevant, so Let's begin.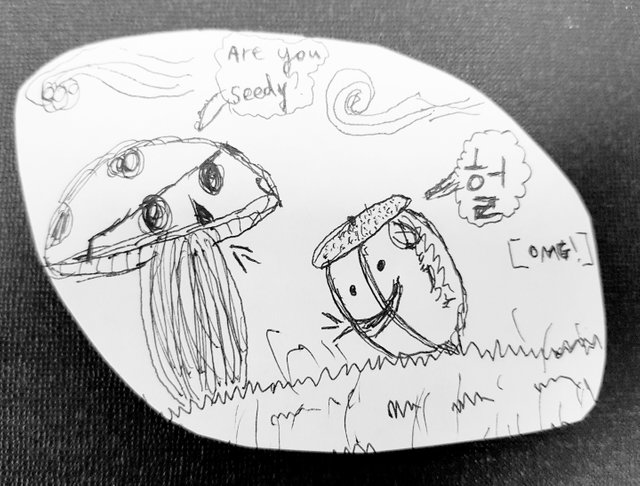 This is a drawing I drew for #inktober I never bothered sharing. It's unrelated to spud. 헐! means the same as OMG! It's pronounced as 'heol' or 'her' depending on who you ask.
October 2019 SPUD
I think it is SPUD7, I'm not sure. In any case, I want to call out @streetstyle for this great initiative.
I like the idea of SPUD, but I also like being critical. Last time I complained that counting the months is dumb, especially when the starting month was irrelevant and I think we may have even missed one or two. Now, my new SPUD criticism (which I'm sure has also been raised before) is why 1 day, SPUD is every day. My solution, show my monthly SPUD activity on SPUD day and do a token powerup. Without wasting more time, let's look at my monthly SPUD activities.


This is my month of SPUD. Obviously the large one had some outside help.
As you can see, I powered up 3850 Steem during the month of October. On the 1st of November, I powered up a healthy 42 Steem. Exciting huh? Clearly I'm not selling my Steem and I'm powering up well over 100% of my earnings.
I guess the large one should be explained. Well, I got 3657 Steem from Binance. My Steem Power grew by 38%. I took advantage of rock bottom prices to increase my holdings to a respectable 14,757 SP. I'll be a triple dolphin in no time.
Scot Tokens
@steemitblog announced that #SMT will be ready late Q1 2019 and they will be awesome. In the meantime, we have SCOT-tokens, so why not bring up my activity.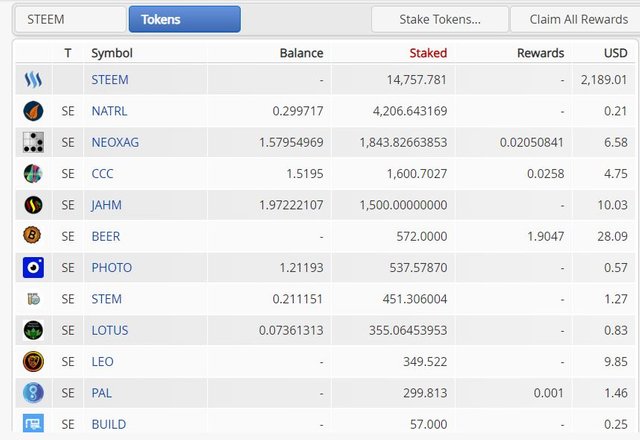 I have a lot of beer, most of these are worthless.
I picked up #BUILD-it and dumped sports. I like DIY stuff and have been called out by the community a lot. I bought a bit and will be doing some DIY posts soon. I dropped sports because I don't remember the last time I tagged it. I'm not investing in a social blog tribe I don't tag. Sorry jocks, I'm a nerd.
I also increased some of the other tokens a lot, especially the ones that were newish or at least to me. There are a few others I am just selling all the profit from, but I'll consider talking about that more next month.
#steem-leo released an awesome next exchange and it keeps getting better. Here it is: https://dex.steemleo.com/market/LEO
I am hoping they improve it and imagine they are. I didn't post in LEO much recently, but I still like it, I just didn't earn any this past month because I had other priorities. I'll be back (hell I'll tag this post cause I invested). Tribe owners, if you want me to invest in your tribe or coin, I need to be interested and I need to see improvement. If you want me to keep it, I better at least see some community engagement and onboarding or hunting for people who may forget to tag.
SEO
I only want to mention Search Engine Optimization Briefly, I'll do a more thorough post later.
To be honest, you aren't going to make much money with SEO on Steem. However, SEO tips can improve your blog. Notice how I made my first picture irrelevant, but interesting? That will get clicks but it won't improve #SEO To improve this, you must make your blog relevant.
use header
label everything
use relevant tags and try to bring them up
pick a normal title
use things like lists, but don't go overboard
name your pictures
use internal (steem and your posts) and external (url) links
use hashtag '#' and '@' because these are also links
improve your writing skills
use grammar and spell check
Improving the style and engagement will help you earn on Steem. A good picture and clear title help. No one wants to read my diary No. 283.
A lot of people talk about onboard, that's why I'm going to share on Twitter and Facebook even if I don't use it and no one looks, it's at least 2 more links for google to pick up from sites way more popular than Steemit or Steempeak.
The best way to onboard is for everyone to improve their SEO. Tags are very important. I use a few generic tribe tags, but I plan to use less and less, especially in the first 5. For example, I wrote about the #SuwonTreefrog. It's not on google yet, but it would be cool to get even on page 10 when types in. Tag unique things and try to get up there. Bringing in outsiders won't necessarily translate into votes, especially since people voting with 0 SP doesn't help and signing up to Steem is a nightmare for outsiders (I can give you a free account ;)
Who knows who you can accidentally onboard? Let's all improve our SEO accordingly. It will make Steem a better place.
October Stats
I wrote a total of 16 blogs in October, 14 paid out already and 3 are pending.
I made around 381.11 Steem this month and another 50 or so from selling random scot-tokens
Pending



Not Pending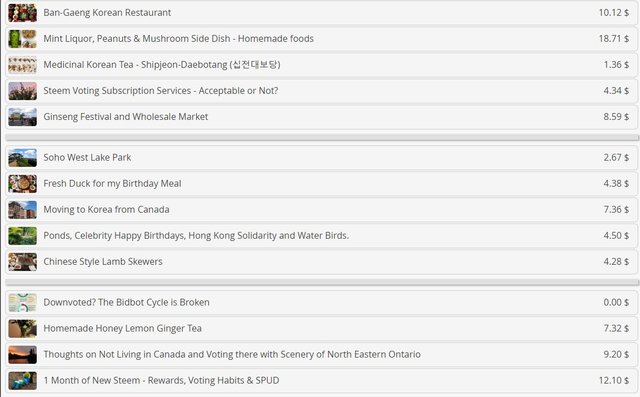 These are all my posts from October. I am satisfied
My post successful post is a post about frogs. Another is about food. Both took a lot of research or work and a little photo-editing and writing time. Blogging and posting aren't just about writing. 2 of my posts had beneficiaries. In one case there was a Steem World error.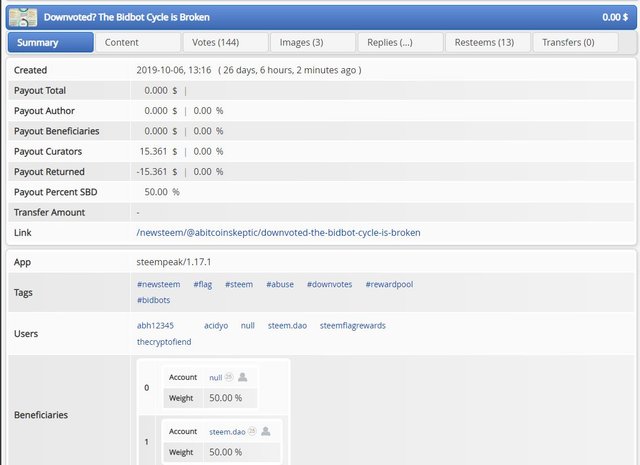 This post says the payout was 0.00$ but the payout was not declined.
SteemWorld Error
I suspect the reason for the #SteemWorld bug was because Steemworld is now tracking beneficiaries differently. The change probably happened mid-payout or something. In that post, I set 50% to the @steem.dao and 50% to @null. I didn't earn anything but the curators earned about $15 and the Dao earned around $7.50. Sending to Null just erases Steem. I still love you Steem World and supported the @steemchiller proposal before it was cool. Glad you made it buddy.
Beneficiaries
I want to set beneficiaries sometimes, but not always 100%. Better than thou posts, calling people out, #newSteem posts, rants and stuff like that are perfect for that. No one can or will hit your post if you decline payouts and only jerks will hit you if you are setting high beneficiaries (or being really rude and aggressive).
CSI = Engagement
CSI means Community Support Index. Voting #CSI is really neat. Here is an old post about it: https://steemit.com/tools/@steemchiller/steemworld-some-thoughts-on-the-csi
Basically CSI is negatively influenced by self votes and selectively voting for the same people over and over (ie the ratio between accounts and total votes). It is positively influenced by your SP and voting for a ton of different people. Unlike the curation and engagement league by @abh12345, comments and such don't influence it.


My CSI is much higher than a lot of 'curators'
I've decided that anyone with a CSI score below 5 is probably best avoided as a #circlejerker or #selfvoter or #noobie. They need to learn better #engagement. If someone wants to call themselves a curator, they should probably be above 15.
Curation
As seen above, my curation is quite low 80 in a month is unsatisfying. Actually my curation efficiency was 39.29% last week and the weighted one was 41.82 %. This means I need to fix something. I did a few manual vote curation sessions where I checked tags and 'explore on #SteemPeak, however, I mostly just voted people in my various engagement circle and those either I follow or see resteemed by people I follow or curators I follow.
Auto Votes
I've got a new rule moving forward. I'm going to remove most of my auto votes on individual accounts. I will stop automatically voting for curation projects. If they curate me or I look at their list I will vote, otherwise, meh. Too many people are following them and they are getting plenty of support.
That being said, please inform me of people who need support and deserve it (if your CSI is below 15, no dice!)
My goal is to try to give away less than 2 full votes a day from auto voting. So that is like 10 at 20%. I'm going to continue voting for accounts of the services I use like #SteemRewarding and #SteemWorld (if they post). I'm also going to curate the posts of the trails I follow.
Voting Trails
In October I followed @theluvbug, @c-squared and @naturalproducts. Now it's a new month.
I want to change things up a little. I'm to still do curation project, but I'm also going to start with individuals. I'm going to use Asher's Curation and Engagement league table here https://steempeak.com/palnet/@abh12345/4bp2tf-the-curation-and-engagement-leagues
I'll pick the best and work my way through the list. It can never hurt to follow people above me right? Wrong! I'm not going to touch people with CSI less than 10. Congrats first place engager, but I sense you are a bit of a circle jerker. I ain't gonna follow that.
So this month it is @delishtreats, @curie, and @helpie. Curie and Helpie are great. I don't really know delishtreats, but their voting habits and posting habits look genuine. I hope they don't mind. My random 10% votes are worth like 1400+ SP and will help their curation and the person they are voting for...since it is not a circle win-win for all.
My main goal is to get my curation efficiency % up to around 60 without scoring a lot, having to develop a bot or complex system, or being an asshole (that's right I try not to vote too early, only for the same famous people, in a circle or for self.


Here are my trail settings for October
Last time I forgot to exclude myself so sometimes I accidentally self voted when they curated me. I'm not looking to be curated by these people, but don't mind if they do. I'll vote for up to 30 a day depending on my VP and 150 a week at 10%.
In case you don't know, my tool is https://steemrewarding.com/ by @holger80. He hasn't posted much recently. I miss you Holger, I really liked your posts on Tribes because it helped me analyze. Now I get to use @bluerobo's awesome charts instead, but I like your stuff, too. I also want to auto vote.
NewSteem and October
I got into a thing with downvoting early in October. I just mentioned why bid bots are no longer accepted by the consensus. You get downvoted if you use them. Actually, I think that's fine. It's better if no one uses them. It's really bad if only some people use them and Steem was going nowhere fast with everyone using them.
I also questioned vote trading on curation subscription services. I'm happy to say #steembasicincome changed. #Tipu also changed. #smartsteem also changed. Things are looking good. Hopefully, when SMTs are ready, outsiders will see a great community.
In the meantime, let's not fight let's discuss. Despite me not hesitate to share my opinions and doing a fair bit of downvoting myself, I've never really been attacked. I'm polite about it. I discuss it. I only talk to clear abusers who others agree are abusers. I mostly only go after spammers, bid bot misuse, bit bot abuse, and tag abuse. Usually, I give fair warning unless a lot of people are already downvoting it.
The key is dialogue. Let's continue the discussion. If you don't like #newsteem, if you did like it but don't like what it has become, we need to talk. I'm not going to attack anyone, but I invest in Steem and hope to see it succeed because I like making money from my investments, and I like engaging and blogging on Steem. If it's just a scammy scheme promoting weird junk or just endless dribble, who's gonna jump in?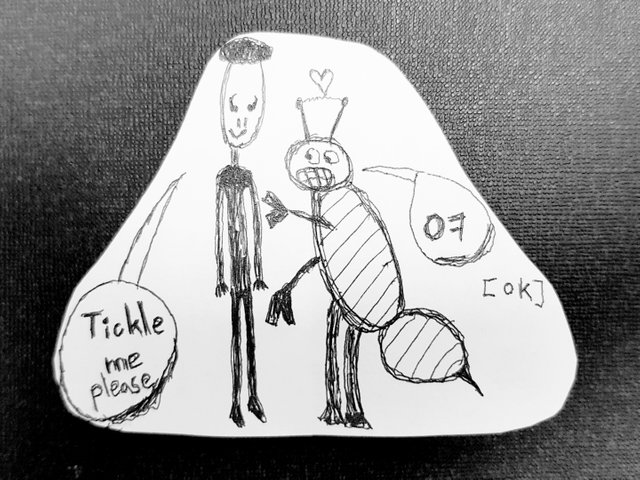 Here was my other comic. His reply says ㅇㅋ which actually means nothing in Korea, but looks like OK in English.
If you have any suggests for who to curate, follow or just want to engage, please oblige me.
Let's all work and grow together ;)