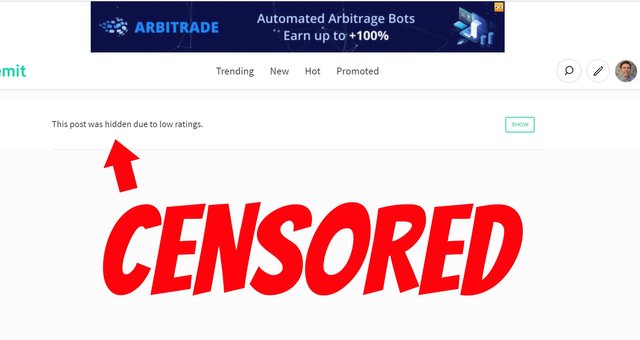 It's funny how quickly things change.
Just recently, I wrote a post celebrating 1000 posts on Steemit and/or a host of other applications sitting on top of the Steem blockchain.
But since then, I've been the victim of whale downvotes on several posts, namely coming from @ocdb.
This was an annoyance to say the least, however this isn't what shook my faith in Steem.
What shook my faith in Steem was seeing my post from yesterday, "Is Bitcoin Useless?", hidden due to "low ratings".
This was a completely legitimate post that I took the time to create, including a custom thumbnail, title and description.
All the rewards attributed to that post have been lost. The post has been hidden. What a complete waste of time and effort for myself.
I knew spammy posts could be hidden. I didn't know that legitimate posts could be hidden and rewards stripped, simply due to a few downvotes from powerful individuals.
I was originally drawn to Steem due to the censorship on YouTube. But now I find myself being a victim of censorship on Steem.
And worse yet, at least with YouTube I wouldn't lose my income from downvotes. But on this platform, those downvotes have a severe impact on my income.
So now I'm beginning to question whether Steem is a viable place for me to stay in the long run, if any possibility of making an income is dictated by a handful of powerful individuals. In that sense, it doesn't seem very different to YouTube, yet only has a fraction of the audience.
Perhaps I'm overreacting, but I'm shocked to see this when I've posted literally thousands of times on this platform. I also have money invested in this platform in the form of Steem Power. I find myself questioning why I would have money invested in a platform that silences me and inhibits my ability to have my voice heard and make an income.
I have a lot of thinking to do.
I would welcome any thoughts you might have about this in the comments section below.