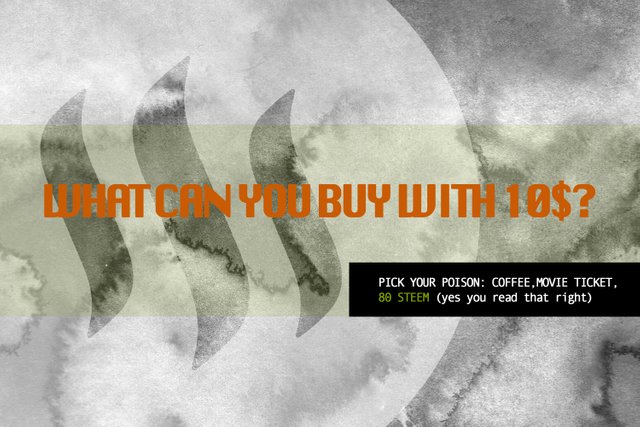 Nothing in this thumbnail or post is financial advise ;-)
---
It will depend on how long you've been on Steem, how many autovotes have been assigned to you over the years and in the last few weeks, or which whale digs your sexy selfies, but 80 STEEM is either hard to earn today OR if you're a lucky one: it probably used to be hard to earn in the very beginning.
How long did it take you to get your first 100 STEEM? How long to even get your first 10 STEEM?
Ten months ago I wrote a very proud post: Powering up 1000 STEEM. Say 'hi' to the newest Dolphin in the Steem Ocean! I bought 1000 STEEM which got me to a Dolphin status - It took me 11 months AND buying STEEM to get there.
And I know I haven't been growing as slow as some others on Steem - I've been lucky receiving whale support on 'auto' in the very first few months of writing on Steem, and afterwards I've been getting pretty consistent support for doing work 'behind the scenes' and/or going to Steem meet-ups in multiple countries. (Okay, sometimes I write a post people actually like as well.)
Another crypto 'crash'
---
Yesterday the market went down and some people in the SteemChat Discord talked about it. I don't keep an eye on the STEEM price very religiously, but if I see an opportunity to buy a little but more I'm definitely doing so. I bought a bit for 10 euros, then for 5, as the price kept falling and I just like the feeling of buying even lower than the last time even though it might not be the best buying strategy and it's just a few euros anyway. I just feel a tiny bit of euphoria when I buy more STEEM for my Euro than the last time.
Anyway, tonight we were talking about what we could buy instead of STEEM. 100$ would buy a dinner for two said @whatsup. 10$ would buy 3 cups of coffee in a hipster cafe - I joked.
The topic of a post was born.
10$ buys me...
---
Even though I'm buying stuff in euros, and sometimes these examples are actually 9$ or 12$, you get the gist - they are meant to give you a rough idea of what I can buy with 10$ living in a big city in The Netherlands:
3 cups of coffee in a hipster cafe even though I have the best coffee at home
One movie ticket (nah, don't touch my cinema (arthouse) subscription!)
A pretty decent bottle of wine (especially with my discount card ;-))
A 3-pack of cotton socks to replace the ones with holes in them
Sandwich lunch with a single glass of sparkling water
One month of Netflix or Spotify
3-4 apps in the App Store that I will have stopped using in a week time
2 colours of Merino Wool Roven that I use for my felting projects (100 grams per colour)(very specific I know, but I'm writing this post while resting from a day of felting :D)
1 good (! real sourdough) loaf of bread, 2 packs of milk, and a pack of butter
Or...
---

Buying small amounts every 10-14 days as even small amounts add up to something bigger

If I'd hit the button RIGHT NOW...
Yeah - basically I can buy 80 STEEM for the same price of 3 cups of coffee - or the price of a movie ticket. As the title said: remember how hard it is/was to earn 80 STEEM? Is 80 STEEM really something you can miss out on for those few cups of coffee?
What can YOU buy for 10$ in your country? And is it an easy or hard to miss amount of money for you? How many posts do you have to curate to earn 80 STEM? Have you been buying some STEEM lately? Or are you inspired to do so now?
Let me know in the comments! Or write your own post if you fancy it :-)
---
Screenshots have been taken in the best 'Euro to STEEM' gateway I've encountered so far. If you're in Europe (check the list of countries!) you can buy your STEEM very very easily (no crypto conversions needed!) through bitvavo.com (yes, that's my referral link :-)). Read my post about the service if you want to know more.