There is again talks about the inflation rate of the Steem inflation pool, and while I am still uncertain about what is best or what is not, I currently take the position that lowering it is a response to the long bear market to increase price. This might be a good thing for me as a holder, but I am not sure if it is a good thing in the long-term position of Steem as I think that inflation does aid in user adoption. However, so does price increases.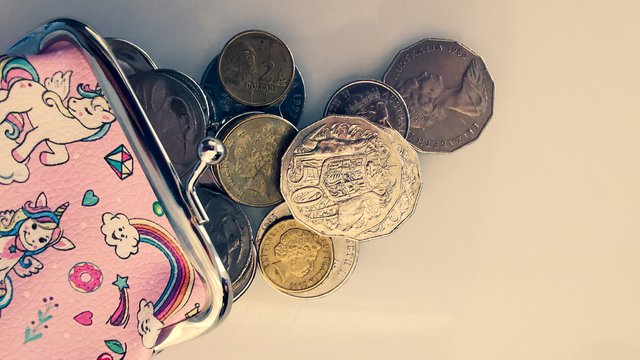 I am not sure if you have seen this before, but this is the inflation of the Steem blockchain over the first 20 years. The supply is affected by SBD conversion also, so the numbers are more ballpark.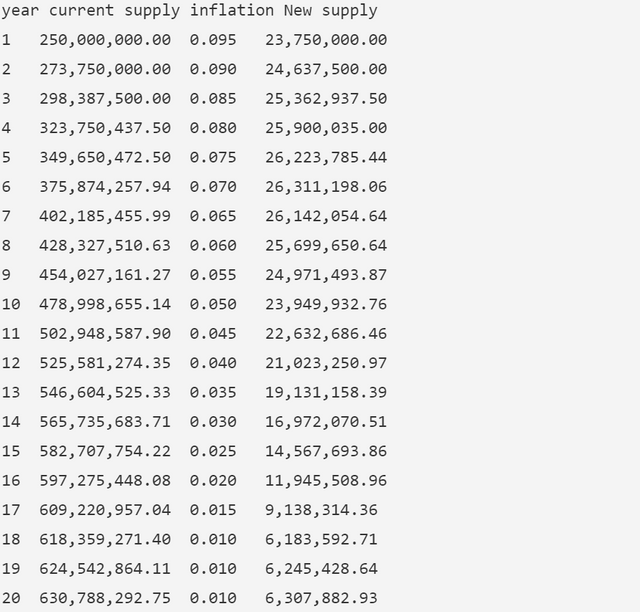 The 250,000,000 in year one should actually be at "0" as it was an instamine, but from that point, the inflation (adjusted every 250,000 blocks if I remember correctly) started at 9.5% and drops 0.5% a year. If you follow the new supply down the chart, you will see that the supply increases for the first 5 years, and then starts to decrease. It will stabilize at 0.95% inflation after that 20th year (2026), but at that point there will be around 630 million Steem in the supply - but in that 20th year, the blockchain will only print 6.3 million. That is about 20% of what it is printing now, which is around 26 million for the year.
So, the talk is to adjust the inflation rate of the pool to around 2%, which I will work with for this post. The current supply is 337 million and compounded until 2036 (16 years) will see the increase in the supply change from 630 million Steem at current rate and degradation, to 460 million. That is a massive change in supply and of course creates a great deal more future scarcity, meaning that price should increase.
But, there are other factors to consider. This would mean that rather than approximately doubling the amount of Steem in the supply over the next 16 years, we would only be increasing it by about 50%. And since this would be an instant change to a flat yearly rate, the reward pool immediately changes significantly.
As said, there are about 26 million Steem being printed this year and the inflation is around 8%. If it went to 2% today, the next year would see 6.7 million in the pool. This would signify an enormous change in the way the Steem blockchain operates and how much distribution happens as essentially everyone would receive about 75% less Steem than they currently do. Again, this might push price up and attract new users due to price, but will the benefits offset the negatives of the change in distribution?
If there was a decent user who is able to gain support from near the start of their journey and get some traction, let's say it takes them 3 months to go from zero to minnow, to have 500 SP and the old "vote slider point" that is irrelevant now. This would now take that same user a full year to do the same - and 3 months is quite quick for many users to get to 500 SP. While price of what they earn might be worth more, the distribution of Steem across the entire user base gets seriously inhibited and as price is higher, people will be less able to buy in volume.
Will this increase adoption? I think it might in the short term, but it also means that all of those with Steem now are unlikely to ever have their position threatened as for example, an account like Freedom that holds 10M+ STEEM would require over 1.5 years of the entire inflation pool to be equivalent, and that is never going to be in the hands of one account again, and most of that 6.7 million Steem is still going to end up in the hands of those who already have Steem.
This post is for me to get some numbers out on paper so that I can think a little more about it and hopefully get some feedback from the audience. I do not know if changing the inflation rate is good or bad, and I do not know if dropping it will improve the situation. I do think that having a steady yearly rate does make it simpler to understand, however as we know, once one thing changes and espoecially one as major as this, the knock-on effects can be pronounced and we would have to consider things like the stability and decentralization of the chain, Resource credits and of course SMTs.
What I do believe however is that eventually, Steem is unlikely to end up in the hands of content producers anyway as SMTs will replace STEEM tokens as the earning coins, while STEEM is for the investors.
There are pros and cons.
Taraz
[ a Steem original ]
Thanks @theycallmedan and @smooth for the discussion.