We've been riding in this channel since around July 9th. The only thing I can see making us drop below the resistance is if Bitcoin falls down in that $8500 range. The STEEM/USD chart looks almost identical. Shows solid, healthy movement.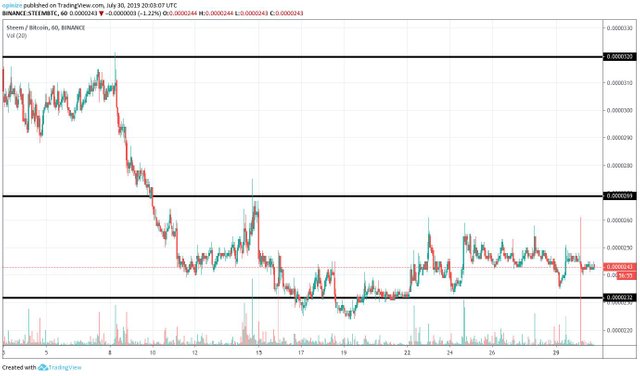 One thing that stood out to me was that we entered this channel a day before BTC started nosediving from $1300+ (July 10th). Amidst all the turbulence we have remained steady in this channel. If Bitcoin keeps going sideways a pump is imminent. I can't think of many other coins/tokens that have held up this against BTC since we've been falling from the yearly high. In the short-term, I would really like to see us break and hold above that resistance around 0.0000255 though.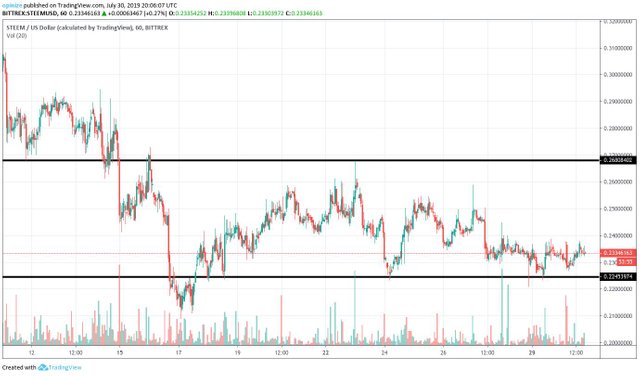 I'm definitely back in my accumulation stage. Earning and buying when I can. I was doing some selling on the way down and this definitely feels like the floor. STEEM is an absolute steal at this point. The risk to reward opportunity is MASSIVE! Just how low do you think STEEM could possibly go...$0.15, $0.10 maybe? With all the positive advancements on STEEM combined with the community that is indeed the worst-case scenario (unless BTC fails as a whole). Well, what about the upside? How about an ATH of $8.57 and potential to go a lot higher.
Hope y'all are getting your sacks up!
*This is not financial advice