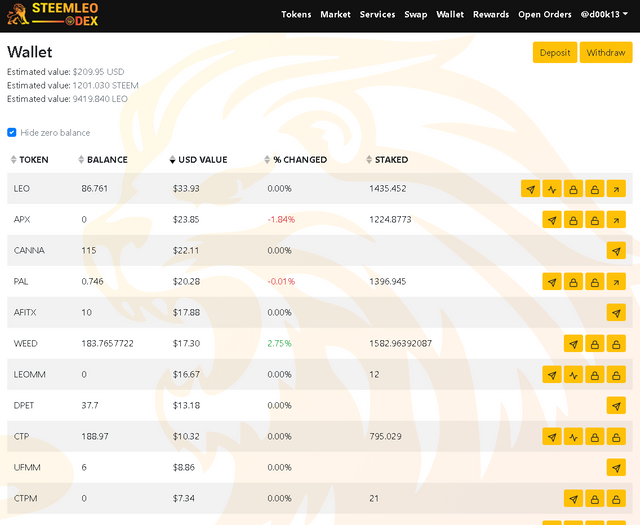 It has been awhile since I looking in on what all the different tribes are doing in terms of developments with each of their independent front ends. When heading to steemleo.com for the #steemleo tribe I was semi dumbfounded with how drastically different their front end is! Sure same basic structure but it actually has that crypto exchange feeling with all the price feeds 👌
With this most recent look into the tribes front end came some token movements, I decided to shut down the @onelovesteem steem-engine token trail moving tokens back to my main account(still ongoing). I decided to do this after discovering LeoDex as it actually displays the value of all tokens held not just the liquid.... I want to see what all my supportive activities has been worth in $$ and make an assessment of which tribes will be the most profitable to focus on and forget the rest. This is a decision made not because I do not believe in the future of these tokens but that there are now so many if I do not focus on the few I may miss the developments that coincide, such as LeoDex.
I had been using Steemworld.org by @steemchiller for managing my tokens, mass claiming and staking 👌. Now with LeoDex I can actually claim all tokens right from the exchange while also getting further details into trading than that of the original steem-engine. Seems LeoDex is set to be the main exchange for these tokens since it seems nearly all the little bugs of steem-engine are solved... trust the traders to create the trading platform they want to use!
As of now looking at all that is going on I am feeling fairly bullish on these tokens still wanting to support tribes I will be keeping most powered up on my main account from now on rather than alternative accounts. There are a few projects that really stand out to me and not just because they are highest on my list on tokens in terms of value. LEO, APX, CANNA, CTP, AFITX are the ones I am personally feeling bullish on. Each token I am feeling bullish on has its niche of users and content supporting token value while maintaining a focus in building this beast into the future.
What Are You Feeling Bullish On?
PS I am no professional