We seem to have learned very few lessons from the Global Financial Crisis.
It's easy now to forget the panicked fear and desperation that tore through the highest levels of American finance and government.
The phrase "helicopter money" was first coined by Milton Friedman but he was joking, hypothesizing an absurd extreme example of monetary policy. But we may be coming to a time when the joke becomes reality. Wikipedia notes that
The idea of helicopter drops was revived as a serious policy proposal in the early 2000s by economists considering the lessons from Japan. Ben Bernanke famously delivered a speech on preventing deflation in November 2002 as a Federal Reserve Board governor, where he says that Keynes "once semi-seriously proposed, as an anti-deflationary measure, that the government fill bottles with currency and bury them in mine shafts to be dug up by the public." In that speech, Bernanke himself says, "a money-financed tax cut is essentially equivalent to Milton Friedman's famous 'helicopter drop' of money."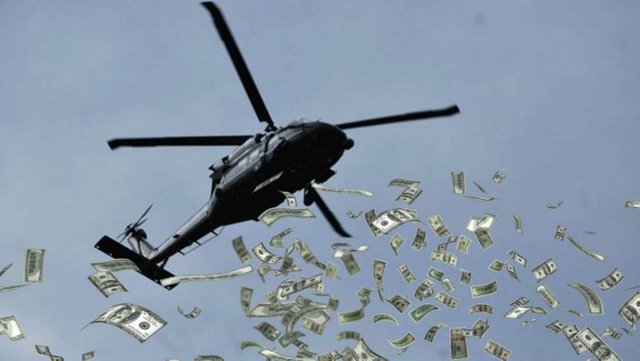 Since the crisis of the GFC, we've had almost everything except helicopter money. First TARP which seemed huge at the time but, in retrospect, has proved to be drips compared to the deluge that has followed. Quantitative Easing(s) followed, massive bailouts of the financial sector.
These so-called "emergency" policies have now been used for more than a decade even through years of supposed economic recovery. QE gave way to QE2 and then QE3.
And it's starting up again. Fed Chair Jerome Powell insists "it's not QE4" but the ongoing Repo market fiasco certainly seems like QE4 by a different name.
After a decade of throwing everything they have at it, central bankers are still struggling to prop up our zombie financial system. Bank bailouts never did trickle down as voodoo economic theory promised they would. S&P 500 companies used cheap money to buy back their shares, magically increasing nominal income per outstanding share, entirely coincidentally justifying nice fat bonuses for top management. Income disparities increased to levels comparable to banana republics.
All the while, central banks have desperately been driving interest rates progressively lower, effectively monetizing mountains of the debt that the world's economy needs as much as a junky needs his next syringe of heroin. To the point of driving interest rates to be negative, something that only a few years ago would have been seen as quite insane, but now has been normalized. We now have otherwise intelligent people touting Modern Monetary Theory.
Massive amounts of Quantitative Easing have been bandaids, but central banks (and their associated government treasuries) have all but run out of tools. So it's quite possible that if when The Everything Bubble pops, they'll find that simply giving money to banks just isn't very effective. Flailing about, they may well resort to helicopter money. Oh, they'll call it something else (much like they're insisting that QE4 is not QE 4) but, for what it's worth, I think they'll try giving money directly to their citizens in the form of "one time" cash payments in an attempt to jump start the economy.
If they do that, what will you do? Short-term thinking will lead to most people buying more toys with the "free" money. But anyone with an understanding of history will know that massive money-printing (or its digital equivalent) has always resulted in inflation, often hyperinflation. Debasement of coinage in the late Roman Empire, assignats in 18th century France, Hungary after the First World War (with 100-quintillion banknotes) — it never ends well. We may think it can't happen in one of the world's largest economies, but there was a time when Argentina had the world's fourth-largest GDP.
If helicopter money comes to my little corner of the world, rather than buy toys, I'll be buying inflation hedges like silver and maybe crypto. Non-perishable food and other basics too. Learn from Venezuela. Learn from what's starting to unfold in Argentina, again.

Disclaimer: This should not be construed as financial advice. I am not a registered financial advisor; I don't even play one on TV. Do your own due diligence. Batteries not included. Objects may be larger than the appear in mirror. Some assembly required. Do not taunt Happy Fun Ball.