(Source)
Ben Hunt of EpsilonTheory.com essentially thinks that the mountain of debt we're buried under has killed off any chance of fiscal or monetary sanity and that both the left and right will kick the can down the road by embracing the drivel of Modern Monetary Theory, albeit by calling it something else.
I think he might be right. We're now several months into a QE4 that Fed Chair Powell has repeatedly insisted is not QE4.
"Well, who ya gonna believe, me or your own eyes?"
~ Chicolini, in Duck Soup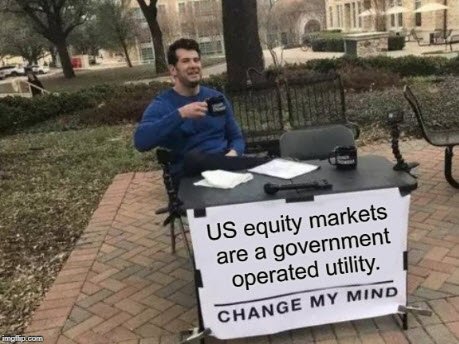 Disclaimer: This should not be construed as financial advice. I am not a registered financial advisor; I don't even play one on TV. Do your own due diligence. Batteries not included. Objects may be larger than they appear in mirror. Some assembly required. Do not taunt Happy Fun Ball.
Beneficiaries:
5% - @newageinv
5% - @steemchiller
---
Posted via Steemleo | A Decentralized Community for Investors