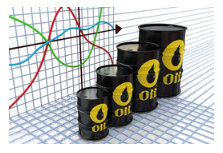 About one month ago, Drones attacked a Saudi Arabian oil facilities, disrupting about half of the Saudi Arabia's oil capacity, or 5% of the daily global oil supply.
Yemen's Houthi rebels took responsibility for the attacks. Houthi rebels, backed by Iran have been at war with Saudi Arabia since 2015. The Houthi rebels have been behind a number of attacks on Saudi Arabia's oil infrastructure in recent years.
On the news, oil prices spiked over $10 the following trading day.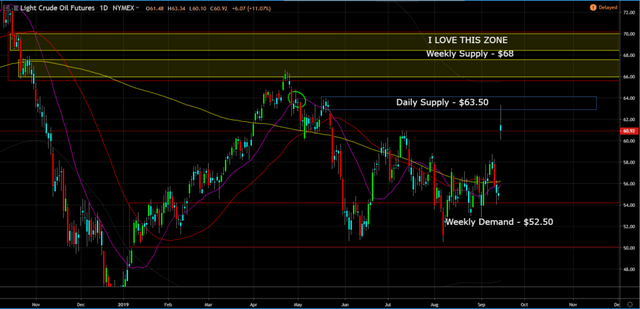 Crude Oil Analysis Report 9-15-19...Oil Will Gap Higher Sunday Evening - Part 2
Oil prices have since returned and actually are lower than the day of the drone attack, primarily due to ISM numbers that were lowest since June of 2009 and ISM Non-Manufacturing numbers that were weakest growth in three years for September.
But those lower prices for oil might be temporary.
The fragile state of geopolitics in the Middle East was ruptured this week with reports of an Iranian oil tanker under attack in the Red Sea.

The impact on oil prices was instant and in Friday trading, Brent crude was priced just below US$60 with WTI (West Texas Intermediate) holding around US$54 a barrel.

The missile attack on the Iranian owned Suezmax tanker Sabiti is reported to have happened in the Red Sea near Jeddah in Saudi Arabia.

Prices spiked on the news, trading at their highest since the day in mid-September when Saudi Arabian oil facilities were attacked.
Source
So where is oil headed next?
Price is now back in weekly demand, but formed a "W" or a reversal pattern on the daily chart.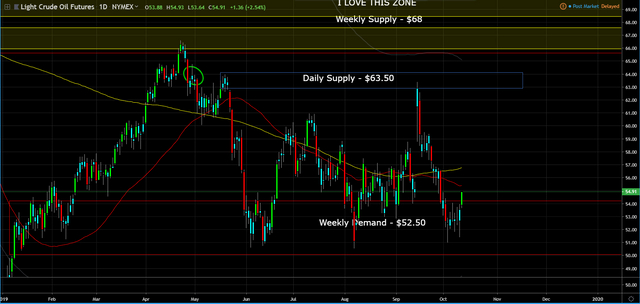 This the chart suggests buyer will push the price of oil to the $56 - $57 range, where they will be met with sellers.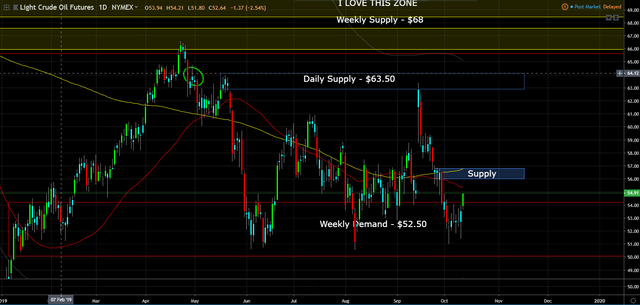 This post is my personal opinion. I'm not a financial advisor, this isn't financial advise. Do your own research before making investment decisions.