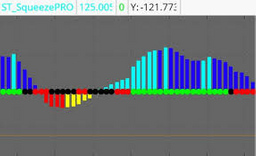 The TTM Squeeze Oscillator measures the strength of the market and its momentum and uses the Bollinger Bands and the Keltner Channel as its basis. When the Markets are consolidating, the Bollinger Bands are inside the Keltner Bands and the Markets are set to be in a squeezing, building up energy. However, when volatility increases, the Bollinger Bands widen and engulf the Keltner channel, it is this switch when the Markets transitions from consolidation, to a break out, to a trending Market. The TTM Squeeze indicator attempts to alert you this event happens.
I'm a Supply and Demand trader, where I wait for price to get to my price levels/zones, but why not take advantage of these price moves to these levels / zones.
A little under a year ago, Intel reported their first-quarter earnings. They beat the estimates for the quarter, but reported their first annual profit decline since 2015. In addition, their full-year guidance was below Wall Street expectations. The culprit was due to the lack in their data center revenue.
Data center revenue, Intel's second largest segment, not only declined more than expected for the first quarter, down 6% to $4.9 billion when analysts were expecting a 2.5% decline to $5.1 billion. Intel also forecasted its data-center revenue to decline by mid-single digits in 2019. On the news, Intel stock fell 10%, their biggest one day decline since 2008.
Intel deemed 2020 as its Turnaround Year with an emphasis of focusing on its core competencies of personal computers and data center. Based on their fourth quarter results, Intel might be on to something.
Intel Corp. gave bullish quarterly and full-year revenue forecasts, driven by a surge in demand for chips that power large cloud-computing centers. The shares jumped as much as 7.8% in late trading.

Sales in the current quarter and in 2020 will be well above what analysts had predicted and are outpacing normal industry trends, the chipmaker said on Thursday. Fourth-quarter revenue and profit also topped Wall Street's highest estimates. As the biggest provider of server chips, Intel is benefiting from a rush to build capacity in data centers operated by companies such as Alphabet Inc.'s Google, Facebook Inc. and Amazon.com Inc's AWS.

"We're well ahead of our expectations in the quarter and it's continuing into this year," Chief Financial Officer George Davis said in an interview. "That's just a great dynamic."
Source
Earlier in the week, I noticed Intel Corp. was upgraded on Tuesday by Jefferies analyst Mark Lipacis after he turned bullish on the stock, upgrading it to hold from underperform while raising his price target to $64 from $40.
Despite the TTM Squeeze signaling a break out, I wasn't going take the trade. But around 10 am eastern time, I noticed the Smart Money was getting in ahead of earnings. The Smart Money bought over 50,000 call options that expire in June with a strike price at $70.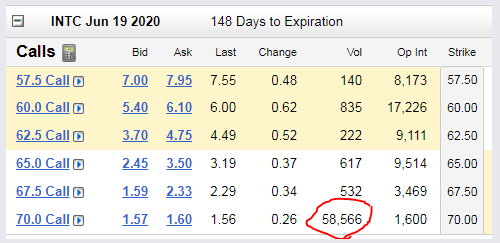 Because I knew price had room to run to the upside, the monthly supply at $70,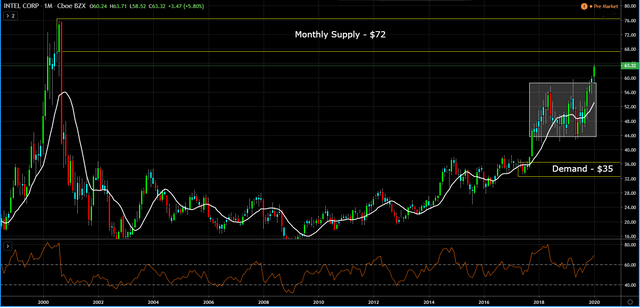 I jumped on board as well by buying one contract.

As of this morning, that 1 contract is already up 100%.

I love calendar or diagonal spreads, so the plan is to squeeze as much profits out of this trade as possible, so I sold the January 31st call options with a strike price at $70.

And plan on doing this each week or month pending price action.
This post is my personal opinion. I'm not a financial advisor, this isn't financial advise. Do your own research before making investment decisions.

Posted via Steemleo