Another decade is about to be gone and when you look at what investment was the best place for your money, bitcoin is hands down the winner.
It's funny because most crypto investors don't feel very jovial with BTC still being down immensely from the all time highs set nearly two years ago.
Bitcoin Kicked Some Ass....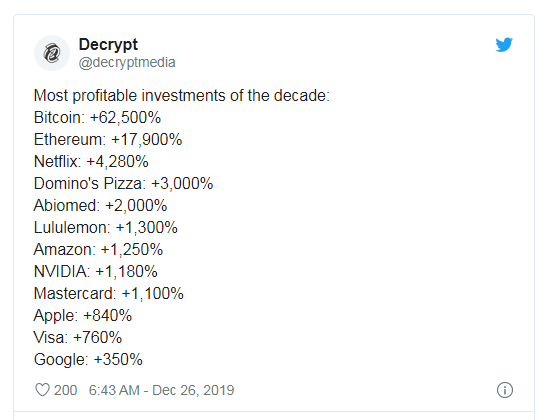 Looking at the stat line posted by decryptmedia on twitter we can see bitcoin is hands down the big winner since 2010 with etheruem being second.
Pretty sick returns for a ten year span, eh?
Traditional Winner
If we won't to talk more "traditional" investments NetFlix was a big winner, but what is interesting is they are also a market busting trend changing tech. They changed the way people consume TV. Not as ground breaking as what blockchain technology is doing but clearly we see a theme on big winners.
Looking forward to another decade of crypto changing the way we live and becoming more commonplace.
---
Posted via Steemleo | A Decentralized Community for Investors