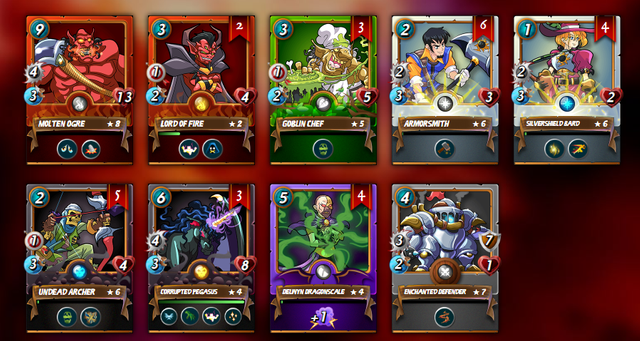 ---
Today I decided to move the cards I put in the @peakmonsters rental market to this account
As I won't face having cooldowns when I accidently select them during battles.. So I tried to balance out my account a bit, see what fits my summoners and also which ones I just rather rent out than use. I started moving the promo cards from the orb collection first, except for those that were already rented at the moment, of course. Tomorrow I will continue checking the other cards, and slowly have all the unused cards in one account instead of in my active account.
The cards shown above (except for the Delwyn Dragonscale, because there are tons of level 10's on the market, which I don't have) are all available for leases.
---

These golden promo cards are also available
Since the last post I made about these golds available for rent, one of them got leased out, and I was happy to see that that lease was 90 days. This was the first long lease for me, as I didn't start renting cards out too long ago. That also made me decide that I will extend all the new filled in lease options to 180 days instead of 90 days. As soon as the leases of the cards that are currently rented out are back, I will move them to this account and also extend the lease options to 180 days.
Hopefully there will be some leases in my account in the morning when I open Peakmonsters Market and slowly build a passive income from the card rentals.
Happy leasing!