Summary
Sandstorm Gold posted record revenue of $25.8 million for the three months ended September 30, 2019, compared with $17.3 million for the comparable period in 2018.
Attributable gold equivalent ounces sold for the quarter ended September 30, 2019, were 17,289 ounces compared with 14,314 ounces for the comparable period in 2018.
SAND seems now overbought and could retrace if gold prices fail to continue higher.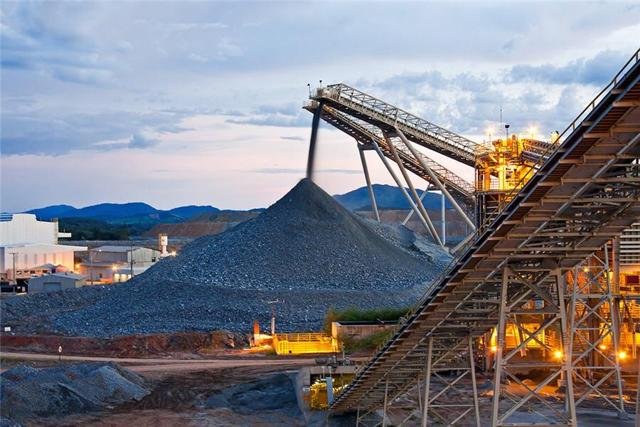 Source: Chapada Mine, Brazil. Operated by Yamana Gold (AUY), Image from Sandstorm Gold
Investment thesis
Vancouver-based Sandstorm Gold (SAND) is one of the "streamers" that I am regularly covering on Seeking Alpha. The company is similar to Franco-Nevada (FNV), Wheaton Precious Metals (WPM), Royal Gold (RGLD), and Osisko Gold Royalties (OR).
To access my articles on those companies, I recommend you to look at the list of my articles already published.
Sandstorm Gold is one of the smallest in revenue-size amongst the five streamers indicated above. However, with the third-quarter results out, the stock is outperforming the whole group, with a 53% increase since the beginning of 2019.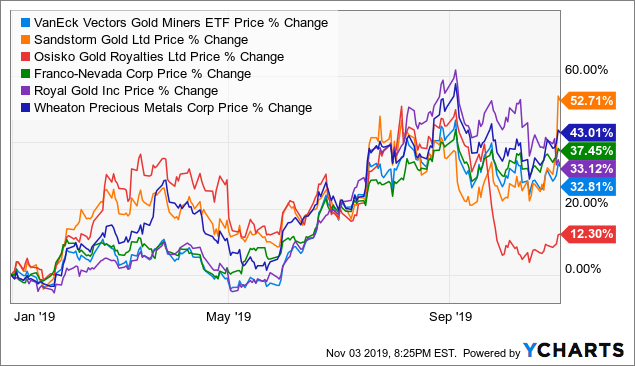 ChartData by YCharts
The investment thesis is still a difficult one when it comes to SAND. Honestly, I am not a great fan of the company, which presents some risk due to its size, especially now at above $7, but I have to be fair, and I recognize the potential growth that the company has to offer which may justify a bet in the long term.
Importantly, the company is set to profit from the substantial positive momentum that the gold price has experienced in the past few months.
So far, my strategy was to trade SAND short term and eventually accumulate a midterm position slowly and sell out my entire position on any strong rally, like the one the company experienced last week. It has worked out many times before, and I do not see why this trend will change for the next few months. So I sold out.
On the side note, the gold price is a crucial element when it comes to investing in SAND. Sandstorm stock seems acting as a weak proxy for gold, but more often, the stock behaves more like equity.
It means the stock will not react totally to a bullish gold price, whereas it will suffer the full impact of any gold or silver price weakness. Conversely, the stock is likely to rally on any good news related to production or sell-off in case of a bearish spell.
Sandstorm Gold has acquired a portfolio of over 190 streams and royalties (~67 in Canada). According to Nolan Watson, the CEO, in the Q3 conference call.

Erfan Kazemi, CFO, said in the conference call:
Production for the quarter totaled 17,289 attributable gold equivalent ounces sold, resulting in total revenue of approximately $25.8 million. This represents a 21% increase in ounces and a 49% increase in revenue when compared to the third quarter of 2018. The increase in production was partially due to the commencement of commercial production at the Aurizona mine, which was announced back in July. With this project coming online, Sandstorm now has 23 producing assets in its portfolio.
---
Author Bio:

Steem Account: @funtrading
Seeking Alpha Account: Fun Trading
Steem Account Status: Unclaimed
Are you Fun Trading? If so, you have a Steem account that is unclaimed with pending cryptocurrency rewards sitting in it from your content. Your account was reserved by the Steemleo team and is receiving the rewards of all posts syndicated from your content on other sites.
If you want to claim this account and the rewards that it has been collecting, please contact the Steemleo team via twitter or discord to claim the account. You can also view the rewards currently sitting in the account by visiting the wallet page for this account.
What is Steemleo Content Syndication?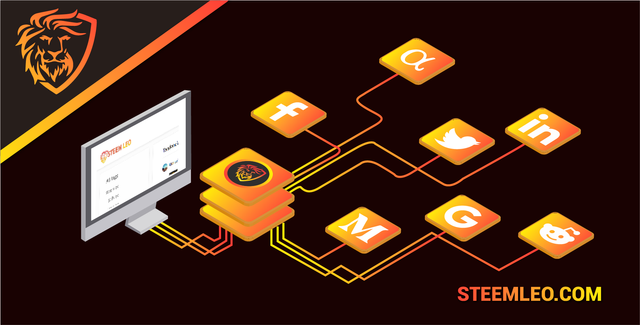 The Steemleo community is syndicating high-quality financial content from across the internet. We're also creating free Steem accounts for the authors of that content who have not yet discovered the Steem blockchain as a means to monetizing their content and we're listing those accounts as the 100% beneficiaries to all the rewards. If you want to learn more about Steemleo's content syndication strategy, click here.